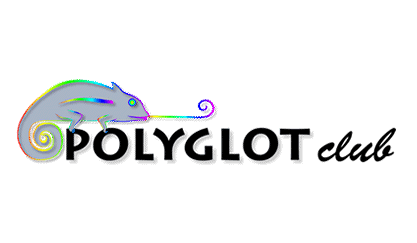 ---
Transparent Language Review 2022 Write a review about this language tool.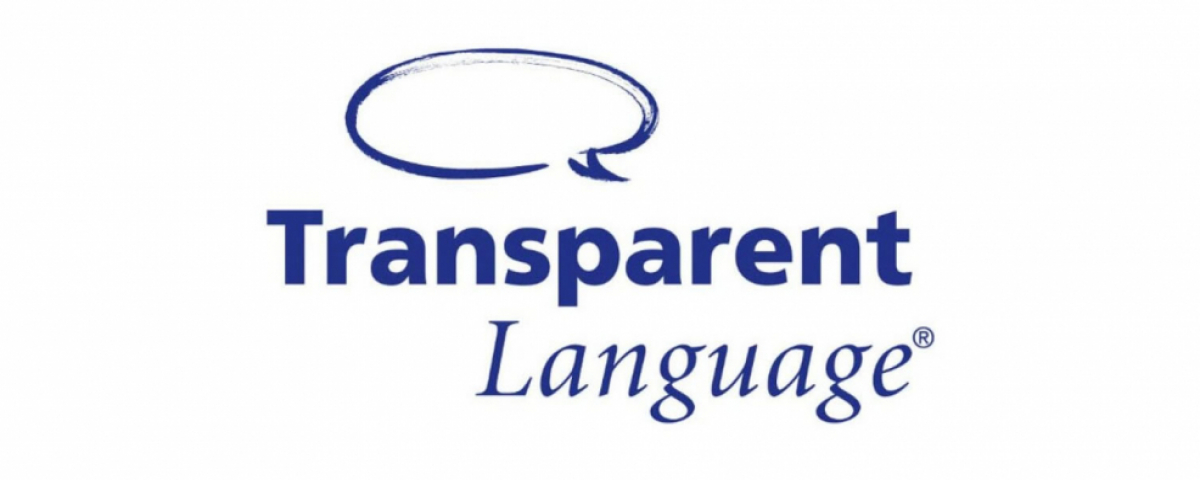 Category: Website
LANGUAGES:

mul

Multiple languages
Minimum Price: 24.95 €
Summary
Transparent Language is a language learning platform that uses a variety of activities to make the user progress. Its interface might be slightly basic, but you'll find lessons for studying up to 101 languages, a number that many language platforms struggle to beat. In our opinion, the prices are fairly high.

➡ Is it worth it for the average learner? You will find out in this review.
---
I like...
✅ Offers courses in an impressive number of languages (101 languages!)

✅ A clear learning structure.

✅ Excellent voice recognition tool.

✅ User-friendly interface with easy navigation.

✅ Opportunity to learn using languages other than English.
---
I don't like...
❌ Some languages have more content than others.

❌ Little or no grammatical explanations during your learning.

❌ Lessons follow the same pattern and can become repetitive.

❌ The quality of the course does not justify the high price.
---
Detailed description
How it works

Transparent Language allows you to create your own "learning path" using pre-selected lessons and activities. A dashboard presents all units and lessons in a logical order to follow. Some languages have many units, others very few. Common topics for units include 'Ask for directions', 'At the hotel', 'Buy a train ticket', 'family' and 'shopping'. You can edit your specific learning goals and see how many words you've learned. Seeing your progress each day is convenient and motivating.

Transparent Language uses a variety of activities to help users improve their language skills. These activities touch on the four aspects of language learning: listening, reading, writing and speaking. Each unit is divided into lessons. To complete a lesson, you must complete various activities. These activities vary from lesson to lesson and from language to language, but in general they follow a similar pattern.

If you are learning a language with a totally different alphabet, your first lessons will focus on learning the new letters and their pronunciation.

While some may appreciate this consistency, others may find the stiffness of the lessons repetitive and boring.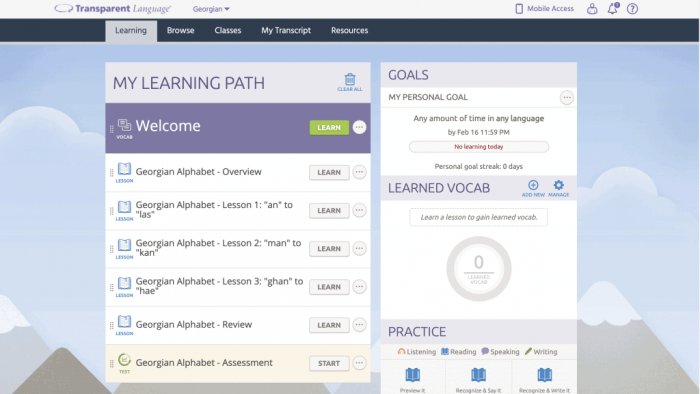 Start

After signing up for the 14 day free trial, you are redirected to a page where you select the language you want to learn.
Once you have selected your language, you are redirected to the "My learning path" page where several course units are offered to you.

Each unit comes with its own lessons and exercises. Here, Transparent Language teaches you to listen and repeat different words such as "hello", "thank you", "no", "yes" etc.
A translation is provided at the bottom of the word in your native language to help you while you listen.
When you click next, you are taken to the next term or phrase, and when you click on the word itself, you are told how to pronounce and spell it.
Pronunciation – Voice Recognition

Most lessons include a section where you practice your speaking, trying to imitate the native speaker as best you can.
We found this feature quite useful when trying to pronounce new vocabulary.

In this section, learners are expected to listen, read and record themselves speaking the languages they are studying.
You can then listen to your recording and pay attention to the part where your pronunciation does not match that of the native speaker. Highlighting combined with reading makes the tool useful.

When learning a longer phrase, the slow button when pressed distorts sounds which can be a disappointing experience.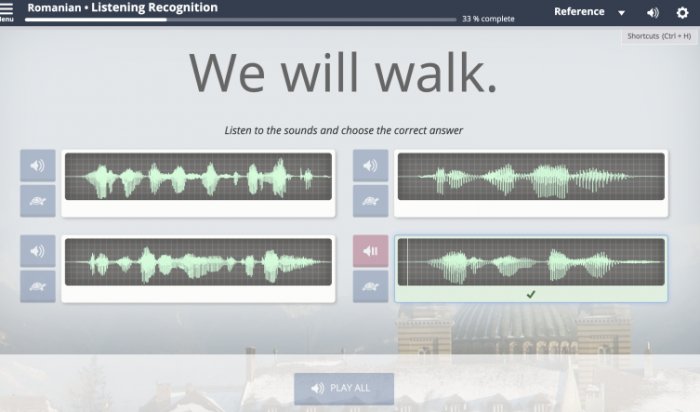 Vocabulary

Transparent Language offers a huge list of general vocabulary under the navigation tab with a range of sections including verbs and adjectives.
Other sections include questions for 'ask for directions', 'to the hotel', 'buy tickets' etc.

You are invited to listen and watch a preview of the new vocabulary you will learn. This feature has a handy auto-read feature, which helps learners discover new vocabulary. Lessons begin by asking you to recognize new vocabulary and phrases through flashcards. These small activities are similar to what you will find on other platforms.

This is where we encountered our first problem: There is little or no grammar to help you along the way. In some languages, there was no grammatical explanation. In others, there is a small window which explains the grammatical construction.
Write

There are practice session where you are asked to write the word you read on the screen in a text box that appears below the word. This helps you remember words as well as their spelling.

In each lesson you will be asked to write down a selection of words you have learned during the lesson. It turned out to be a useful tool for remembering words and their spellings. The downside is that the interface looks a bit heavy and cluttered. In fact, each time you type a letter, Transparent Language gives you the option of adding an accent or a diacritical mark.
Assessment
At the end of each unit lesson, you must take tests to evaluate your understanding of the language you are learning.
A score is assigned based on the number of correct answers.
What is unfortunate is that whatever your score, you can always continue to progress to the next unit.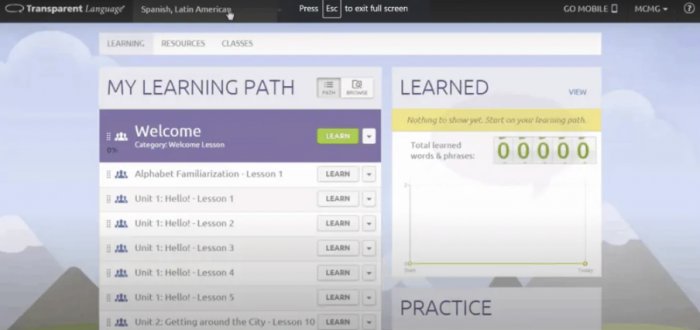 Grammar

As mentioned earlier, there is little or no grammar to help you along the way. It is, however, a surprise to finally see all the grammar lessons that were previously hidden away.

For Russian, for example, the grammar tips section has 19 videos ranging in length from 40 seconds to two minutes to provide guidance on how the language works.
In our opinion, these explanations are not thorough enough.

When you enter the "alphabet explorer" section, you are introduced to the Russian Cyrillic alphabet which you will learn in a fun way.
You will also receive grammar tips regarding adjectives, verbs, pronouns, conjugations, adverbs, etc. According to us, this section is also not deep enough.

It is funny to note that the Russian course is almost identical to the Portuguese one with minor differences such as the "Russian cases", with 11 lessons for Russian and 7 for Portuguese.
Tutoring

There is an additional "Tutoring" option. Pricing is 79 € for 2 sessions (includes a one month access) and 299 € for 8 tutoring sessions (includes 3 month access).

This option is only available for a small number of languages, including:
➡ Arabic
➡ Mandarin Chinese
➡ Farsi
➡ French
➡ German
➡ Italian
➡ Japanese
➡ Brazilian Portuguese
➡ Russian
➡ Spanish
➡ Turkish
➡ Vietnamese
Other languages may be available upon request.
Who is it best for?

It is best for true beginners. You have the option to start anywhere in the course, but later lesson content is still quite easy and the repetitive activities may become boring for intermediate speakers. Although the content is not comprehensive, users learning uncommon languages with few resources elsewhere might find it useful.
What learning languages are offered?

Most language learning platforms typically offer up to a dozen languages. Transparent Language has a huge advantage by including a great selection of regional languages. This is really impressive.

The full list of languages available in includes:
➡ Afrikaans
➡ Albanian
➡ Altai
➡ Altai - Transliterated
➡ Amharic
➡ Arabic, Egyptian
➡ Arabic, Iraqi
➡ Arabic, Iraqi - Transliterated
➡ Arabic, Levantine
➡ Arabic, Levantine - Transliterated
➡ Arabic, Modern Standard
➡ Arabic, Modern Standard - Transliterated
➡ Armenian
➡ Armenian - Transliterated
➡ Azerbaijani
➡ Balinese
➡ Baluchi
➡ Bambara
➡ Bashkir
➡ Bashkir - Transliterated
➡ Belarusian
➡ Belarusian - Transliterated
➡ Bengali
➡ Bengali - Transliterated
➡ Bosnian
➡ Breton
➡ Bulgarian
➡ Bulgarian - Transliterated
➡ Buriat
➡ Buriat - Transliterated
➡ Cambodian (Khmer)
➡ Chechen
➡ Chinese, Cantonese
➡ Chinese, Mandarin - Simplified
➡ Cree
➡ Croatian
➡ Czech
➡ Dakota
➡ Dakotah, Sisseton
➡ Danish
➡ Dari
➡ Dari - Transliterated
➡ Denesuline
➡ Dutch
➡ Esperanto
➡ Estonian
➡ Farsi
➡ Farsi - Transliterated
➡ Finnish
➡ French
➡ French, Canadian
➡ French, Moroccan

➡ Georgian
➡ Georgian - Transliterated
➡ German
➡ Greek
➡ Greek - Transliterated
➡ Haitian Creole
➡ Hausa
➡ Hawaiian
➡ Hebrew
➡ Hebrew - Transliterated
➡ Hindi
➡ Hindi - Transliterated
➡ Hmong
➡ Holikachuk
➡ Hungarian
➡ Icelandic
➡ Indonesian
➡ Irish
➡ Italian
➡ Japanese
➡ Japanese - Transliterated
➡ Kalmyk
➡ Kazakh
➡ Kazakh - Transliterated
➡ Kituba
➡ Koasati
➡ Korean
➡ Korean - Transliterated
➡ Kurdish, Behdini - Latin
➡ Latin
➡ Latvian
➡ Lithuanian
➡ Luxembourgish
➡ Macedonian
➡ Macedonian - Transliterated
➡ Malagasy
➡ Malay
➡ Maori
➡ Mirandese
➡ Mongolian
➡ Mongolian - Transliterated
➡ Nahuatl
➡ Nepali
➡ Nogai
➡ Norwegian
➡ Ojibwe
➡ Ojibwe, Central
➡ Ojibwe, Northwestern
➡ Oji-Cree
➡ Pashto
➡ Pashto - Transliterated
➡ Polish
➡ Portuguese, Brazilian
➡ Portuguese, European
➡ Punjabi, Shahmukhi
➡ Quechua, Ecuadorian
➡ Romanian
➡ Russian
➡ Russian - Transliterated
➡ Scottish Gaelic
➡ Serbian
➡ Serbian - Transliterated
➡ Slovak
➡ Somali
➡ Spanish, Castilian
➡ Spanish, Latin American
➡ Swahili
➡ Swedish
➡ Tagalog
➡ Tajiki
➡ Tajiki - Transliterated
➡ Tamil
➡ Thai
➡ Thai - Transliterated
➡ Turkish
➡ Turkmen
➡ Tuvan
➡ Tuvan - Transliterated
➡ Ukrainian
➡ Ukrainian - Transliterated
➡ Urdu
➡ Urdu - Transliterated
➡ Uzbek - Cyrillic
➡ Uzbek - Latin
➡ Vietnamese
➡ Welsh
➡ Wolof
➡ Yoruba
➡ Zulu.

In addition to offering a huge choice of languages, it does something that few other platforms do: offer language learning in a native language other than English.
It also includes instruction tailored to speakers of Arabic - Modern Standard, Chinese - Mandarin Simplified, Czech, Farsi, French, German, Greek, Haitian Creole, Hindi, Hmong, Malay, Norwegian, Polish, Portuguese - Brazilian, Romanian, Russian, Somali, Spanish - Latin American, Swahili and Tagalog.
How much does the method cost?

During the free trial period offered, a learner has time to decide which language to study before making payments or signing up for a plan.

At the price of 24,95 € per month, you only have access to one language.
The prices are quite high. To unlock a single language, it will cost you 24,95 € per month, or 149,95 € per year.

If, however, you wish to access 101 languages, it will cost 49,95 € per month or 249,95 € per year.
When you look at the depth and range of courses available and since the lessons do not cover grammar in depth, the price of the service seems quite high to us.

That's not to say that the platform isn't useful because if you want to learn the fairly rare languages, it's a good platform to use with its free trial period.

Note: Transparent Language also partners with libraries in the United States, Canada, Australia, and the United Kingdom, which may allow you to access the platform for free at your local library.
What other platforms can you use as an alternative?

Pimsleur appears as the good alternative in the market although its price is also high.
Applications Babbel, Mondly and Rosetta Stone are also excellent resources.
Let's not forget to mention software such as Preply and Baselang.
Transparent Language and Duolingo

Duolingo has all the benefits of Transparent Language but for free! Duolingo makes content more fun and less repetitive than Transparent Language by incorporating game-like elements.
For more information on Duolingo, see our review.
Transparent Language and Rosetta Stone

Rosetta Stone is similar to Transparent Language because it uses a methodical approach. The difference between the two is that Rosetta Stone uses an immersive approach without using your native language. This could prove frustrating for some learners.
Learn more about Rosetta Stone.
Transparent Language and Glossika

The Glossika method for learning languages is quite different from Transparent Language.
Transparent Language likes to make extensive use of activities to engage learners' attention, whereas Glossika focuses on theory and repetition.
Review and conclusion

When it comes to vocabulary, the system does not show us precisely how to connect words correctly in order to form coherent sentences.

We also find that not all words are useful as a beginner.
The words and phrases that are learned at the beginning of the lesson are the same until the end, which can seem boring.

However, you may be surprised by the amount of vocabulary that you will manage to remember thanks to the many repetitions that are required throughout your learning process.

The "voice recognition" function seems efficient and useful.

With over a hundred languages offered, Transparent Language is geared more towards beginners than intermediate or advanced learners. For absolute beginners, the repetition method can definitely help cement certain key phrases in the language.

The lack of grammar is frustrating.
Thus, depending on the price offered, Transparent Language will not be a method that we recommend in priority. Pimsleur appears to be the best alternative platform due to its robustness and pedagogy.
Reviews
4 weeks ago




Pros: ransparent Languages offers a holistic perspective on language learning & a ton of resources in order to learn likely every single vocabulary word in existence. There are opportunities to engage with specific aspects of language related to specific vocations or areas where you would need to know very niche language.Review collected by and hosted on G2.com.





Cons: When you log onto the software, it's a bit difficult to navigate. In addition, the wealth of available knowledge is a bit difficult to wade through, similar to it being like a thick soup. There are multiple options and the thought of tackling the language from the point of logging on is almost overwhelming.




English
4 weeks ago




I think it was not worth my money, Duolingo is so much better and has more content, this one has no content beyond touristy content.

English