What is the Polyglot Club Subscriber's Badge for?
SUBSCRIBER'S BADGE INFORMATION
Your annual membership fee entitles you to several advantages.
You will also receive a Subscriber's Badge to wear during every meeting.
To check all advantages and fees, view the
REGISTRATION FORM
.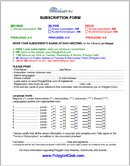 To subscribe to Polyglot Club, hand the form to our staff during the following meetings in Paris:
-
Monday
-
Tuesday
-
Wednesday
-
Thursday
-
Friday
-
Saturday
More INFO about the
NEW SYSTEM in Paris
.
Related topics:
Comments
NormanYoung

Am Norman Young, 50 years of age.... an engineer, i work with the oil rigs company as the rig manager...