---
Mis on polüglottide Club Tellija Badge eest?
Bad translation?
Please HELP us CORRECT (click the button at the end of each paragraph) &
Become VIP!
Tellija BADGE INFO
Teie aastane liikmemaks annab teile mitmeid eeliseid.
Sa saavad ka Tellija Badge kandma ajal iga koosolekut.
Et näha kõiki eeliseid ja teenustasusid, vaadata
REGISTREERIMISLEHT
.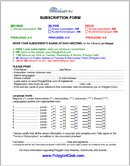 Et tellida polüglottide Club, käsi vorm meie töötajad järgnevatel kohtumistel Paris:
-
Monday
-
Tuesday
-
Wednesday
-
Thursday
-
Friday
-
Saturday
Rohkem infot
uue süsteemiga Paris
.
Related topics: