---
Çfarë është Badge e Polyglot Club parapaguesit për?
Bad translation?
Please HELP us CORRECT (click the button at the end of each paragraph) &
Become VIP!
Pajtimtarit INFORMACION distinktiv
Taksa vjetore e juaj anëtarësimi ju jep të drejtën për të disa avantazhe.
Ju gjithashtu do të merrni distinktiv një pajtimtar për të veshin gjatë çdo takimi.
Për të kontrolluar të gjitha avantazhet dhe tarifat, shikoni
formularin e regjistrimit
.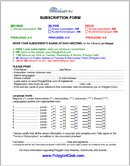 Për të abonuar në Polyglot Club, dorëzojë formularin për stafin tonë në takimet e mëposhtme në Paris:
-
Monday
-
Tuesday
-
Wednesday
-
Thursday
-
Friday
-
Saturday
Më shumë INFO lidhje me
sistemin e ri në Paris
.
Related topics: