---
Do czego służy Plakietka Abonenta Polyglot Club?
Bad translation?
Please HELP us CORRECT (click the button at the end of each paragraph) &
Become VIP!
INFORMACJE DOTYCZĄCE PLAKIETKI ABONENTA
Twoja roczna opłata członkowska zapewnia Ci wiele przywilejów.
Otrzymasz również Platkietkę Abonenta, którą będziesz mógł nosić podczas każdego spotkania.
Aby dowiedzieć się więcej o zaletach członkostwa i opłatach z nim związanych, spójrz na
FORMULARZ REJESTRACYJNY
.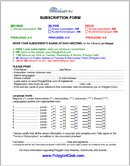 Aby zapisać się do Polyglot Club, przekaż wypełniony formularz komuś z naszej ekipy podczas jednego z naszych spotkań w Paryżu:
-
Monday
-
Tuesday
-
Wednesday
-
Thursday
-
Friday
-
Saturday
Więcej na temat
nowego systemu spotkań w Paryżu
.
Podobne wątki: