---
A che cosa serve il "Polyglot Subscriber's Badge"?
Bad translation?
Please HELP us CORRECT (click the button at the end of each paragraph) &
Become VIP!
INFORMAZIONE DISTINTIVO DELL'ABBONATO
La tua quota associativa annuale ti dà il diritto a diversi vantaggi.
Riceverai anche un DISTINTIVO DELL'ABBONATO da indossare ad ogni incontro.
Per verificare tutti i vantaggi e le tariffe, guarda
MODULO DI REGISTRAZIONE
.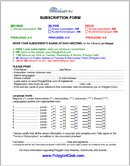 Per iscriversi a Polyglot Club, consegna il modulo alla nostra staff, durante iseguenti incontri a Parigi:
-
Monday
-
Tuesday
-
Wednesday
-
Thursday
-
Friday
-
Saturday
Maggiori informazioni riguardo
NUOVO SISTEMA A PARIGI
.
Argomenti collegati: