---
Para qué es la Insignia de Suscriptor de Polyglot Club?
Bad translation?
Please HELP us CORRECT (click the button at the end of each paragraph) &
Become VIP!
INFORMACIÓN SOBRE INSIGNIA DE SUSCRIPTOR
Tu cuota anual de membresía te da el derecho a varias ventajas.
También recibirás una Insignia de Suscriptor para usar durante cada raunión.
Para verificar todas las ventajas y honorarios, revisa el
FORMULARIO DE REGISTRO
.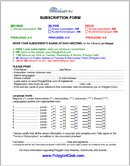 Para suscribirse a Polyglot Club, entrega el formulario a nuestro personal durante las siguientes reuniones en París:
-
Monday
-
Tuesday
-
Wednesday
-
Thursday
-
Friday
-
Saturday
Más INFO sobre el
NUEVO SISTEMA en París
.
temas relacionados: