---
Polyglot Club üye rozeti ne içindir ?
Bad translation?
Please HELP us CORRECT (click the button at the end of each paragraph) &
Become VIP!
ABONE'NİN YAKA KARTI BİLGİLERİ
Yıllık üyelik ücreti çeşitli avantajları hakkı.(alacaksınız)
Ayrıca her toplantı sırasında giymek için bir ''Abone Rozeti'' alacaksınız.
Tüm avantajları ve de ücretleri kontrol etmek için şuraya bakın(görüntüleyin)
Kayıt Formu
.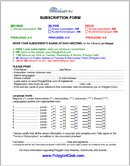 Polyglot Club abone olmak için, Paris'teki aşağıdaki toplantılarda(sırasında) personelimiz formu teslim:
-
Monday
-
Tuesday
-
Wednesday
-
Thursday
-
Friday
-
Saturday
Hakkında daha fazla bilgi
Pariste'ki yeni sistem.
.
İlgili konular: