---
Kokia yra 'Polyglot' Club abonento ženkleliu už?
Bad translation?
Please HELP us CORRECT (click the button at the end of each paragraph) &
Become VIP!
Abonento ŽENKLAS INFORMACIJA
Jūsų Metinis narystės mokestis suteikia jums keletą privalumų.
Jūs taip pat gaus abonento Badge dėvėti per kiekvieną susitikimą.
Norėdami patikrinti, ar visi privalumai ir rinkliavos, peržiūrėkite
registracijos formą
.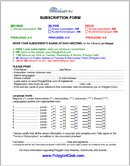 Norėdami užsiprenumeruoti Polyglot klubo ranka prie mūsų darbuotojai formą per šiuos susitikimus Paryžius:
-
Monday
-
Tuesday
-
Wednesday
-
Thursday
-
Friday
-
Saturday
Daugiau informacijos apie
naująją sistemą Paryžiuje
.
Related topics: