---
Wofür ist das Polyglot Club Abonnenten-Abzeichen?
Bad translation?
Please HELP us CORRECT (click the button at the end of each paragraph) &
Become VIP!
TEILNEHMER Abzeichen INFORMATIONEN
Ihr Jahresbeitrag berechtigt zur mehrere Vorteile.
Sie erhalten auch Abzeichen eines Teilnehmers während jeder Sitzung zu tragen.
Um alle Vorteile und Kosten zu überprüfen, zeigen Sie die
Anmeldeformular
.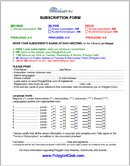 Um Polyglot Club anzumelden, die Hand der Form an unsere Mitarbeiter in den folgenden Sitzungen in Paris:
-
Monday
-
Tuesday
-
Wednesday
-
Thursday
-
Friday
-
Saturday
Mehr Informationen zu den
NEUEN SYSTEMS in Paris
.
Ähnliche Themen: