---
Apakah lencana bagi pelanggan Polyglot Club?
Bad translation?
Please HELP us CORRECT (click the button at the end of each paragraph) &
Become VIP!
MAKLUMAT PELANGGAN'S BADGE
Yuran keahlian tahunan anda memberikan hak kepada anda untuk beberapa kelebihan.
Anda juga akan menerima Badge yang Pelanggan untuk dipakai pada setiap mesyuarat.
Untuk memeriksa semua kelebihan dan yuran, melihat
BORANG PENDAFTARAN
.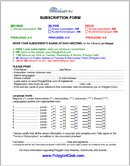 Untuk melanggan Polygot Club, menyerahkan borang tersebut kepada kakitangan kami semasa mesyuarat di Paris berikut:
-
Monday
-
Tuesday
-
Wednesday
-
Thursday
-
Friday
-
Saturday
Lebih INFO tentang
SISTEM BARU di Paris
.
Related topics: