---
Mitä varten on Polyglot Club:in tilaajan rintanappi?
Bad translation?
Please HELP us CORRECT (click the button at the end of each paragraph) &
Become VIP!
Tilaajan BADGE TIEDOT
Sinun vuotuinen jäsenmaksu oikeuttaa sinut useita etuja.
Saat myös Tilaajan Badge pukeutua aikana jokaisessa kokouksessa.
Voit tarkistaa kaikki edut ja palkkiot, katsella
ILMOITTAUTUMINEN
.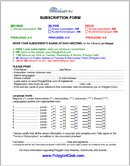 Voit tilata Polyglot Club, käsi muoto henkilökuntamme aikana seuraavat kokoukset Pariisissa:
-
Monday
-
Tuesday
-
Wednesday
-
Thursday
-
Friday
-
Saturday
Lisätietoja
uuden järjestelmän Pariisissa
.
Tähän liittyviä aiheita: