---
Para que serve o Crachá de Assinante do Polyglot Club?
Bad translation?
Please HELP us CORRECT (click the button at the end of each paragraph) &
Become VIP!
INFORMAÇÕES DO EMBLEMA DO ASSINANTE
Sua taxa anual de filiação lhe proporciona várias vantagens.
Você também receberá um Crachá de Membro para usar durante todas as reuniões.
Para ver mais sobre as vantagens e taxas, veja
FORMULÁRIO DE REGISTRO
.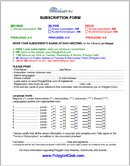 Para inscrever-se no Polyglot Club, entregue o formulário à nossa equipe durante as seguintes reuniões em Paris:
-
Monday
-
Tuesday
-
Wednesday
-
Thursday
-
Friday
-
Saturday
Mais INFORMAÇÕES sobre
NOVO SISTEMA em Paris
.
Tópicos relacionados: