---
Mire való a Polygot Club Előfizetői Jelvény?
Bad translation?
Please HELP us CORRECT (click the button at the end of each paragraph) &
Become VIP!
ELŐFIZETŐI JELVÉNY INFORMÁCIÓ
Az éves tagdíj számos előnyre jogosítja fel Önt.
Egy Előfizetői Jelvényt is kapni fog, amelyet érdemes minden találkozón viselnie.
Az előnyök és díjak megtekintéséhez nézze meg a
REGISZTRÁCIÓS LAP
.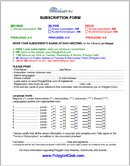 A Polyglot Club előfizetéséhez juttassa el a nyomtatványt munkatársainkhoz a következő párizsi találkozón:
-
Monday
-
Tuesday
-
Wednesday
-
Thursday
-
Friday
-
Saturday
További információ
ÚJ RENDSZER Párizsban
.
Related topics: