---
Čemu služi Polygot Club značka za pretplatnike?
Bad translation?
Please HELP us CORRECT (click the button at the end of each paragraph) &
Become VIP!
ZNAČKA INFORMACIJE pretplatnika
Vaš godišnja članarina vam daje pravo da se nekoliko prednosti.
Vi ćete također dobiti pretplatnika značku nose u svakom susretu.
Za provjeru svih prednosti i naknade, pregled
PRIJAVNICA
.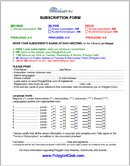 Da biste se pretplatili na Polyglot Club, predati obrazac za našeg osoblja tijekom sljedećih sastanaka u Parizu:
-
Monday
-
Tuesday
-
Wednesday
-
Thursday
-
Friday
-
Saturday
Više informacija o
novom sustavu u Parizu
.
Related topics: