Kirghiz Vocabulary: «Kirghiz survival phrases»
From Polyglot Club WIKI
---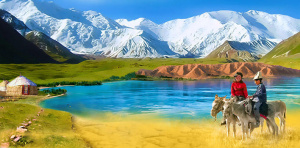 Salamsatysby Polyglots!😊

The Kyrgyz language is spoken in Central Asia and in a variety of different locations.
In this lesson, you will find some basic survival phrases, some videos to practice pronunciation and other resources.
Feel free to complete this wiki page and make it your own!
If you are a native Kirghiz speaker and you can provide recordings, you can help improve this lesson.
Follow the steps here: https://polyglotclub.com/wiki/Help/How-to-add-audio-files
| English | Kyrgyz (Cyrillic) | Kyrgyz (Latin) | Audio |
| --- | --- | --- | --- |
| Have a good meal | Тамагыңыз даамдуу болсун! | Tamagyngyz daamduu bolson! | |
| Have a good trip | Жолуң шыдыр болсун! | Jolung shydyr bolsun! | |
| Good afternoon | Кутмандуу күнүңүз менен! | Kutmanduu kününgüz menen! - sg/frm | |
| Good bye | Kosh kalyn |    | |
| Good luck! | Ак жол каалайм! | Ak jol kaalaym! | |
| Good morning | Кутмандуу таңыңыз менен! | Kutmanduu tanyngyz menen! - sg/frm | |
| Good night | Түнүңүз бейпил болсун! | Tününgüz beypil bolsun! - sg/frm | |
| Goodbye | Көрүшкөнчө | Körüshkönchö | |
| Have a nice day | Күнүңүз жакшы өтсүн! | Kününgüz jaksy ötsün! - sg/frm | |
| Hello | Salamsatysby |    | |
| Hello (General greeting) | Салам! | Salam! | |
| How are you? | Кандайсың? | Kandaysyng? | |
| I don't know | Билбейм | Bilbeym | |
| I don't understand | Түшүнгөн жокмун | Tüshüngön jokmun | |
| I understand | Түшүндүм | Tüshündüm | |
| I'm from ... | Мен ...-дан келдим | Men ...-dan keldim | |
| Long time no see | Көрүшпөгөнүбүзгө канча болду | Körüshpögönübüzgö kancha boldu | |
| Man | Adam |    | |
| My name is ... | Менин атым ... | Menin atym ... | |
| No | Jok |    | |
| Please | Otunuch |    | |
| Please speak more slowly | Кичи пейилдикке, бир аз жайыраак сүйлөңүзчү | Kichi peyildikke, bir az jayyraak süylöngüzchü - sg/frm | |
| Pleased to meet you | Таанышканыма кубанычтамын! | Taanyshkanyma kubanychtamyn! | |
| Reply to 'How are you?' | Жакшы, рахмат. Өзүңүз кандайсыз? | Jakshy, rakhmat. Özüngüz kandaysyz? | |
| Sorry! | Kechirip koyunguz |    | |
| Thank you | Raxmat |    | |
| Welcome | Кош келиңиз! | Kosh kelingiz! | |
| What's your name? | Сенин атың ким? | Senin atyng kim? | |
| Where are you from? | Сиз кайдан келдиңиз? | Siz kaydan keldingiz? - sg/frm | |
| Woman | Ayal | | |
| Yes | Ooba | | |
https://en.wikipedia.org/wiki/Kyrgyz_language
https://omniglot.com/language/phrases/kyrgyz.php
Contributors
---
Create a new Lesson