Best WhatsApp groups to Learn English. Post groups OR Vote for the best!
- POST GROUPS: If you have used a WhatsApp group to learn English and you think it's great, write the LINK here so others can join. Tell us why it's great.
OR
- VOTE FOR THE BEST: Click the 

or

 button to vote for the best group.
FOLLOW THE RULES: (or your post will be deleted)
- DO NOT vote for your own group
- DO NOT post your phone number (you will receive spam)
- DO NOT submit multiple times the same group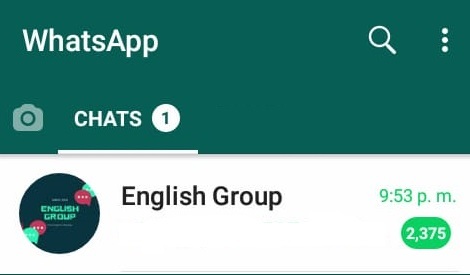 NB: Full groups were deleted on May 23, 2020
GIVE ANSWERS
yaser_odat

Prije 6 dana




check again please, we remove the inactive members daily.
renata_gon

2 prije tjedana




All of them are full. Do you have another whatsapp group?
Any706

Prije 2 dana




Hello Every one This the best platform to communicate with different country friend.

Develop your english skill to join with us.

 English Speaking