Modern-greek-1453 Grammar: Synonyms Antonyms
From Polyglot Club WIKI
---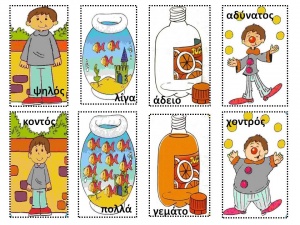 Synonyms and Antonyms in Greek
An antonym is a word that means the opposite of another word. For instance, the antonym of 'hot' can be "cold".
The root words for the word 'antonym' are the words "anti", meaning 'against' or 'opposite,' and "onym" meaning "name".
In order to better understand antonyms, let's take a look at what the word "synonym" means.
A synonym is a word that has a similar meaning to or exactly the same meaning as another word.
Un antonyme est un mot qui signifie le contraire d'un autre mot. Par exemple, l'antonyme de "chaud" est le mot "froid".
Les mots racines du mot «antonyme» sont les mots "anti", signifiant "contre" ou "opposé" et "onym", signifiant "nom".
Afin de mieux comprendre les antonymes, voyons ce que signifie le mot "synonyme".
Un synonyme est un mot qui a une signification similaire ou exactement la même signification qu'un autre mot.
Ένα αντώνυμο είναι μια λέξη που σημαίνει το αντίθετο μιας άλλης λέξης. Για παράδειγμα, το αντώνυμο για το "ζεστό"  είναι το "κρύο".
Η ετυμολογία της λέξης "αντώνυμο" προέρχεται από τις λέξεις "αντι", που σημαίνει "ενάντια" ή "αντίθετο" και "όνομα".
Για να κατανοήσουμε καλύτερα τα ανώνυμα, ας δούμε τι σημαίνει η λέξη "συνώνυμο".
Ένα συνώνυμο είναι μια λέξη που έχει παρόμοιο νόημα ή ακριβώς το ίδιο νόημα με μια άλλη λέξη.
| | |
| --- | --- |
| Παπάς : padre / père   | ιερέας : priest / prêtre |
| λευκός : white / blanc | άσπρος : white / blanc   |
| μπαμπάς : dad / papa | πατέρας : father / père |
| | |
| --- | --- |
| Ψηλός : tall /grand | Κοντός : short  / petit |
| Πλούσιος : rich / riche | Φτωχός : poor / pauvre |
| Όμορφος : beautiful / beau | άσχημος : ugly / laid |
| Πάνω : upward / haut | Κάτω : low / bas |
| Γεμίζω : to fill  / faire remplir | Αδειάζω : to empty  / vider |
| Ανεβαίνω : to ascend / monter | Κατεβαίνω : to descend / descendre |
Ευγενική χορηγία που στοχεύει να βοηθήσει μαθητές ή μη, απανταχού της Γης, που επιδίδονται στην εκμάθηση της ελληνικής γλώσσας!!!
Contribution bénévole visant à aider les personnes, partout dans le monde, qui sont engagées dans l'apprentissage de la langue grecque !!!
Voluntary contribution aimed at helping people, all over the world, who are committed to learning the Greek language !!!