Japanese Vocabulary: Geography
From Polyglot Club WIKI
---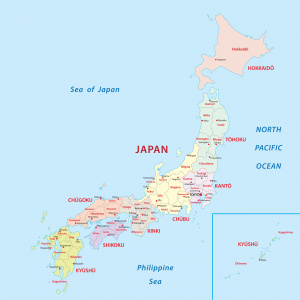 Japan is an archipel (a group of isles).
There are many small isles but Japan is known to be mainly composed by 4 large islands: Hokkaidou, Honshu, Shikoku and Kyuushuu.
Each of them is divided in a set of prefectures, except for Hokkaidou which has only one prefecture : HOKKAIDOU.
Beside Prefecture, there's also districts which compose main islands.
The shape of Japan looks like a curve. With a few of imagination, we can see the letter "J" with a top bar.
Summary: Japan is 4 main islands, 8 aeras and 47 prefectures.
Hokkaidou is a whole itself. Isle, prefecture and everything.
It means there is only Hokkaidou, nothing else.
Hon, means main. Honshu Is the largest of four. Located between the south of Hokkaidou and the north of Kyuushuu.
Contrary to other islands, Honshu also got aeras which are : Touhoku, Kantou, Chuubu, Kansai and Chuugoku.
Is located in the deep east of Japan.
Aomori, Iwate, Miyagi, Akita, Yamagata, Fukushima.
Ibaraki, Tochigi, Gunma, Saitam, Chiba, Tokyo, Kanagawa.
Niigata, Toyama, Ishikawa, Fukui, Yamanashi, Nagano, Gifu, Shizuoka, Aichi.
Mie, Shiga, Kyoto, Osaka, Hyogo, Nara, Wakayama.
Tottori, Shimane, Okayama, Hiroshima, Yamaguchi
Shikoku is the smallest main island. It is located under the Chuugoku aera and between Kansai aera and Kyuushuu island.
It is composed of 4 prefectures.
Tokushima, Kagawa, Ehime, Kochi.
Is the south east of Japan.
Located is the very far west south, the most famous city is Nagasaki, known to has been hit by the A-Bomb at the end of WW2.
There is also another very famous Island called Okinawa which is attached to Kyuushuu.
1995 : Kobe got hit by an earthquake which made ...
2011 : The biggest earthquake ever happend in the region of Tohoku, distric of Sendai