French Vocabulary: Days of the Week
From Polyglot Club WIKI
---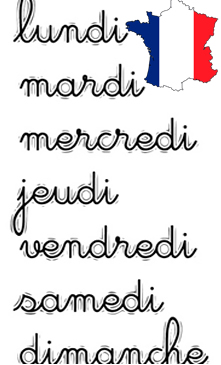 Dear French learners,
In today's lesson, we will learn the different days of the week in French.
Enjoy! :)
Il y a sept jours dans la semaine = There are seven days in a week:
lundi = Monday
mardi = Tuesday
mercredi = Wednesday
jeudi = Thursday
vendredi = Friday
samedi = Saturday
dimanche = Sunday
"être endimanché, être en habits du dimanche"
[
edit
|
edit source
]
"To be very well dressed"
Example : "Ils se sont endimanchés pour aller au mariage."
Contributors
---
Create a new Lesson