Turkish Vocabulary: «Christmas»
From Polyglot Club WIKI
---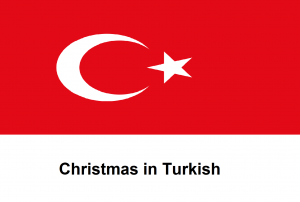 .
Hello everybody,
In today's lesson you will learn some useful vocabulary about ¨CHRISTMAS¨ in Turkish.
Feel free to edit this page by adding new words and expressions!
Good learning! :)
.
.
ENGLISH
PRONUNCIATION

ENGLISH

TURKISH
PRONUNCIATION

BRAZILIAN

PORTUGUESE

BRAZILIAN

PORTUGUESE

THE CHRISTMAS
noh ehl
NOEL
noeL
O NATAL
THE CHRISTMAS TREE
noh ehl aa juh
NOEL AĞACI
noeL aadjâ
A ÁRVORE DE NATAL
THE CHRISTMAS CARD
noh ehl kahr tuh
NOEL KARTI
noeL kartâ
O CARTÃO DE NATAL
THE CHRISTMAS PARTY
noh ehl pahr tih sih
NOEL PARTİSİ
noeL partisí
A FESTA DE NATAL
THE CHRISTMAS DECORATION
noh ehl sew sew
NOEL SÜSÜ
noeL sysy
A DECORAÇÃO DE NATAL
THE CHRISTMAS BELLS
noh ehl chahn lah ruh
NOEL ÇANLARI
noeL tchanlarâ
OS SINOS DE NATAL
THE CHRISTMAS EVE
noh ehl ah rih feh sih
NOEL ARİFESİ
noeL arifesí
A VÉSPERA DE NATAL
THE SANTA CLAUS
noh ehl bah bah
NOEL BABA
noeL babá
O PAPAI-NOEL
THE REINDEER
rehn geh ee ih
REN GEYİĞİ
ren gueiií
A RENA
THE SLEIGH
kuh zahk
KIZAK
câzák
O TRENÓ
THE WREATH
cheh lehnk
ÇELENK
tchelenk
A GRINALDA
THE PRESENT
heh dee yeh
HEDİYE
Hediié
O PRESENTE
THE ANGEL
meh lehk
MELEK
melék
O ANJO
THE CANDLE
moom
MUM
mum
A VELA
THE STAR
ih uhl duhz
YILDIZ
iâldâz
A ESTRELA
THE COOKIE
kou rah bee yeh
KURABİYE
curabiie
O BISCOITO
THE CAKE
kehk
KEK
kek
O BOLO
THE DECEMBER
ah rah luhk
ARALIK
aralâk
DEZEMBRO
THE WINTER
kuhsh
KIŞ
kâch
O INVERNO
THE SNOW
kahr
KAR
cár
A NEVE
THE SNOWMAN
kahr dahn ah dahm
KARDAN ADAM
cardán adám
O BONECO DE NEVE
THE SNOWFLAKE
kahr tah neh sih
KAR TANESİ
cár tanesí
O FLOCO DE NEVE
THE LIGHT
uh shuhk
IŞIK
âchâk
A LUZ
THE FIREPLACE
sher mih neh
ŞÖMİNE
chêêminé
A LAREIRA
THE CHIMNEY
bah jah
BACA
badjá
A CHAMINÉ
TO CELEBRATE
kou tlah mahk
KUTLAMAK
kutlamák
CELEBRAR
MERRY CHRISTMAS !
mou tlou noh ehl lehr
MUTLU NOELLER
mutlú noellér
FELIZ NATAL !
Noel - Christmas
Noel ağacı - Christmas tree
Noel kartı - Christmas card
Noel partisi - Christmas party
Noel süsü - Christmas decoration
Noel çanları - Christmas bells
Noel arifesi - Christmas eve
Noel baba - Santa claus
Ren geyiği - Reindeer
Kızak - Sleigh
Çelenk - Wreath
Hediye - Present
Melek - Angel
Mum - Candle
Yıldız - Star
Kurabiye - Cookie
Kek - Cake
Aralık - December
Kış - Winter
Kar - Snow
Kardan adam - Snowman
Kar tanesi - Snowflake
Işık - Light
Şömine - Fireplace
Baca - Chimney
Kutlamak - To celebrate
Mutlu Noeller!
- Merry Christmas!