Language/Turkish
Jump to navigation
Jump to search
---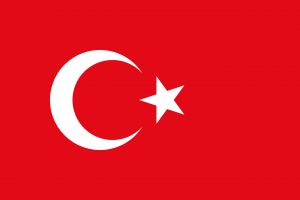 Hi Turkish learners! 😃

Welcome to the Turkish learning page!
You will find below many free resources to learn and practice this language.

Enjoy your learning journey with Polyglot Club! 😊
Language code (ISO 639-3): tur
Autonyms (how to write "Turkish" in Turkish): Türkçe / Türk dili
Other names for "Turkish": Osmanli, Turki, Türkçe, Anatolian, Istanbul Turkish, Türkisch
The Turkish language is spoken in: Turkey
Turkish is the most widely spoken of the Turkic languages, with around 70 to 80 million speakers. It is the national language of Turkey. Significant smaller groups of Turkish speakers exist in Iraq, Syria, Germany, Austria, Bulgaria, North Macedonia, Northern Cyprus, Greece, the Caucasus, and other parts of Europe and Central Asia.
https://en.wikipedia.org/wiki/Turkish_language
• Güncel Türkçe Sözlük: dictionary of the Turkish language (meanings in Turkish)
• Kubbealtı Lugatı: dictionary of Contemporary & Ottoman Turkish (meanings in Turkish)
• Cambridge: English-Turkish dictionary
• Lingea: Turkish-English dictionary & multilingual
• SesliSozluk: Turkish-English dictionary & German
• TurkceSozluk: Turkish-English dictionary & multilingual
• Zargan: Turkish-English dictionary
• Tureng: Turkish-English dictionary
• Eurodict: Turkish-English dictionary & multilingual
• MyDictionary: Turkish-German dictionary
• Pauctle: multilingual Turkish dictionary: Ottoman, Azerbaijani, Kazakh, Kyrgyz, Tatar, Turkmen, Uzbek & Arabic, Persian, Russian
• Turkish minimum core vocabulary list (2013)
• Dictionary of common Turkish words (used in Balkan) Turkish-English-Croatian dictionary (& Bulgarian-Bosnian-Macedonian), Balkan Babel United project (2013)
• Sözlerin Soyağacı, çağdaş türkçenin etimolojik sözlüğü: etymological dictionary of contemporary Turkish, by Sevan Nişanyan (2001)
• Güncel türkçe sözlük: Turkish terminologic dictionary, & English, French, German
• The Turkish suffix dictionary
• Loecsen: Turkish-English common phrases (+ audio)
• Goethe-Verlag: Turkish-English common phrases & illustrated vocabulary (+ audio)
• Defense language institute: basic vocabulary (+ audio) - civil affairs - medical
• Material for a study of Turkish words in English by Edward Gaten(1948)
https://www.lexilogos.com/english/turkish_dictionary.htm
Turkish Online Virtual Keyboard
[
edit
|
edit source
]
Turkey Timeline — Transportation and Travel — Religion — Family and Relationships — Housing — Arts and Festivals — Cuisine — Traditions and Customs — History and Geography — Ordinal Numbers — Cardinal Numbers — Food and Drink — Asking for Directions — Greeting — Conditional Sentences — Participles — Cases — Verbs — Pronunciation — Vowels and Consonants — 0 to A1 Course — Idiomatic Expressions — How to Use Have — How to Use be — How to say Good Bye? — Give your Opinion — Gender — Body — Negation — Plurals
Contributors
---
Create a new Lesson