Spanish Vocabulary: Mexican Slang Glossary
From Polyglot Club WIKI
---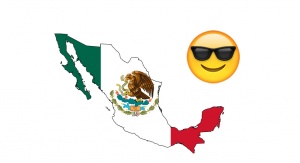 Mexican Spanish SLANG
Dear Polyglots,

Today, you will learn some slang words & expressions in Mexican Spanish.
If you are Mexican or have travelled to Mexico, please feel free to edit this wiki page.
WARNING: BE CAREFUL ON USING SOME OF THESE TERMS IF YOU DON'T WANT TO SOUND TACKY OR IF YOU DON'T WANT TO OFFEND SOMEONE. SOME OF THESE TERMS ARE VULGAR.
A HUEVO!! (OF COURSE!!)
A LA MADRE! or EN LA MADRE! or SU PUTA MADRE! (HOLY SHIT!)
ABUELITA SOY TU NIETO (SEE 'A HUEVO!')
ABUSADO/ABUSADA (CLEVER BOY/GIRL)
AGUADO EL HELADO (SEE 'LEVE LA NIEVE')
AGUÁNTAME (WAIT A BIT)
AGUAS!! (WATCH OUT!!)
AHI NOS VEMOS (SEE YOU LATER) NOTE: MEXICANS NEVER SAY HASTA LA VISTA.
AHÍ NOS VIDRIOS (SEE YOU LATER)
AHORITA (RIGHT NOW)
AL RATÓN (LATER)
ALIVIANADO (RELAXED)
APÁ/AMÁ (DAD/MUM)
CAMARÓN (MONEY, OR CAN BE AN AFIRMATION STATEMENT)
CANIJO (NAUGHTY)
CARNAL (BROTHER)
CARNALA (SISTER)
CHALE (DAMN)
CHAMACO=ESCUINCLE/CHAMACA=ESCUINCLA (BOY/GIRL)
CHAMBA or JALE (JOB, WORK)
CHAMBEANDO (WORKING)
CHANGOS! (SEE 'CHALE')
CHAPARRO/CHAPARRA (SHORT BOY/GIRL)
CHAVA (GIRL, THIS ALSO IS A SLANG FOR THE NAME SALVADOR)
CHELA/CHEVE (BEER)
CHIDO (COOL)
CHILES (BEST FRIENDS)
CHIN!! (OOPS!!)
CHUPAR (TO DRINK ALCOHOL)
CINCHO (BELT, OR CAN BE AN AFIRMATION STATEMENT)
CUATE (FRIEND)
DALE!! (START or GO)
DAR LA VUELTA (TO GO OUT)
DIABLILLO/DIABLILLA (NAUGHT BOY/NAUGHTY GIRL)
DOÑA/DON (Mrs./Ms. is a contraction of Señora and Señor, informal)
ECHARSE UN TACO (GRAB A BITE TO EAT)
ECHO LA MOCHA (RUN VERY FAST)
EN FRIEGA/ EN CHINGA(SO BUSY)
ENTRALE (GO AHEAD, THIS ALSO MEANS LET´S FIGHT, OR WHEN YOU'RE EATING)
ESTÁ CANIJO or ESTÁ CAÑON (IT´S DIFFICULT, IT´S HARD)
ESTOY CRUDO (I HAVE A HANGOVER) (CRUDA=HANGOVER)
ESTOY PEDO (I'M DRUNK)
FERIA or VARO (MONEY. This also is the correct term for FAIR, THE PLACE WHERE YOU GO TO HAVE FUN)
FLACO (THIN)
FLOJERA/HUEVA (LAZINESS)
FUCHO (FOOTBALL SOCCER)
GRIFO or MARIGUANO (UNDER THE INFLUENCE OF DRUGS)
GUACALA! (YUK!, something very disgusting)
HACERSE WEY (TO MAKE THE FOOL, TO WASTE TIME, TO PROCRASTINATE)
HAS PARO (HELP ME)
HASTA LA MADRE (TO BE UPSET OR VERY DRUNK)
JEFA (MOTHER)
JEFE (FATHER, THIS ALSO MEANS BOSS)
JODIDO (SCREWED)
LEVE LA NIEVE (CALM DOWN, RELAX, TAKE IT EASY)
LIGAR (TO FLIRT)
ME COSTO UN HUEVO (IT WAS VERY HARD FOR ME)
ME ECHAS UNA LLAMADA (GIVE ME A CALL)
ME VALE (I DON´T CARE)
MENSO or BABOSO (STUPID)
MI VIEJA (MY WIFE)
MI VIEJO (MY HUSBAND)
MIJO/MIJA (contraction of mi hijo/mi hija - my son/my daughter)
MOCHARSE (TO SHARE SOMETHING)
MORRA or MORRILLA or CHIQUILLA (GIRL)
MORRALLA (CHANGE, TALKING ABOUT MONEY)
MORRO or MORRILLO or CHIQUILLO (BOY)
NACHAS/TRASERO (BUTT)
NEL (NO)
NETA? NETA! (QUESTION: REALLY? AFFIRMATION: REALLY!)
NI MADRES! (OF COURSE NO!)
NO HAY PEDO (NO PROBLEM). NOTE: MEXICANS NEVER SAY NO PROBLEMO OR NO PROBLEMA
NO HAY PEX (NO PROBLEM)
NO MANCHES (GIVE ME A BREAK)
ÓRALE! (WOW!...see 'va!')
PACHANGA (PARTY)
PASARSE DE LANZA (TO BE RUDE)
PEDA (ALCOHOLIC PARTY)
PEDO (A PROBLEM, A FART, or could mean you are DRUNK too)
PILLO/PILLÍN, PILLA/PILLINA (NAUGHTY BOY, NAUGHTY GIRL)
PISALE!! (PUT THE PEDAL TO THE METAL)
PORFA (SHORT FOR POR FAVOR = PLEASE)
QUÉ BUENA ONDA! (GOOD FOR YOU!)
QUÉ PADRE! (SO COOL!, padre could mean chido too)
RÍFATE! (DO IT DUDE!)
Quiubo (what's up): combination of 'que' (what) and 'hubo' (verb 'haber' was) to mean 'what's up' or 'what happened'
ROLA (SONG)
ROLÓN (VERY GOOD SONG)
SIMON or SALE or SAZ (YES, SURE)
TOCHO (AMERICAN FOOTBALL)
TONS? (CONTRACTION OF ENTONCES WHICH MEANS: SO? OR THEN?)
TOQUÍN (PARTY WITH LIVE MUSIC)
Va! (YES, I AGREE, SURE)
VAGAR (TO ROAM)
VALEDOR (GOOD FRIEND)
VETE AL CARAJO (GET THE HELL OUT OF HERE)