Mandarin-chinese Vocabulary: «大 dà dài»
From Polyglot Club WIKI
---


The Character 大, pronounced "dà" means "big".
To remember this character easily, think of a man gesturing how big an object is. :)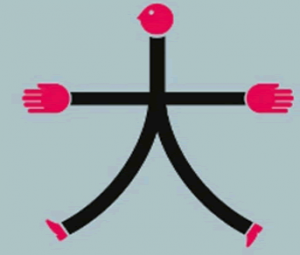 It's the opposite of "xiǎo" (小).
大陸/大陆 (dàlù): continent
大使館/大使馆 (dàshǐguǎn): embassy
大小 (dàxiǎo): dimension
大學/大学 (dàxué): university
大夫 (dàifu): doctor
房子很大 (fángzi hěn dà): the house is very big.