Language/German/Grammar/Conditional-Mood
Jump to navigation
Jump to search
---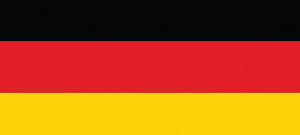 Hi German learners!
In today's lesson we are going to learn about the Conditional Mood in the German language.
Don't hesitate to look into these other pages after completing this lesson: Gender, Be Polite, Descriptive Adjectives & Subject and Verb.
The Conditional Mood in German
[
edit
|
edit source
]
The conditional mood is called "Konjunktiv II (zwei)" in German.
It is used to talk about things that are pure hypothetical.
Note that there are two ways to form the conditional mood. The first one is a real verbal form, #the second one is perphrastic:
"Ich sänge" is the real verbal form: I would sing.
"Ich würde singen" is the periphrastic form.
There is no difference in meaning. But there can be a difference in style. The simple form belong often rather to formal speech. With some verbs though, the simple form ist quite common. You can see the most common simple forms her. The verbs "sein, werden und haben" have very common conditional forms. Notice that these forms can quite simply be derived from the past tenses of the verbs by adding umlauts: ich war becomes ich wäre and so forth.
With "spielen" and "essen", the table below shows the perphrastic form:
Conditional of "werden" plus infintive of the verb.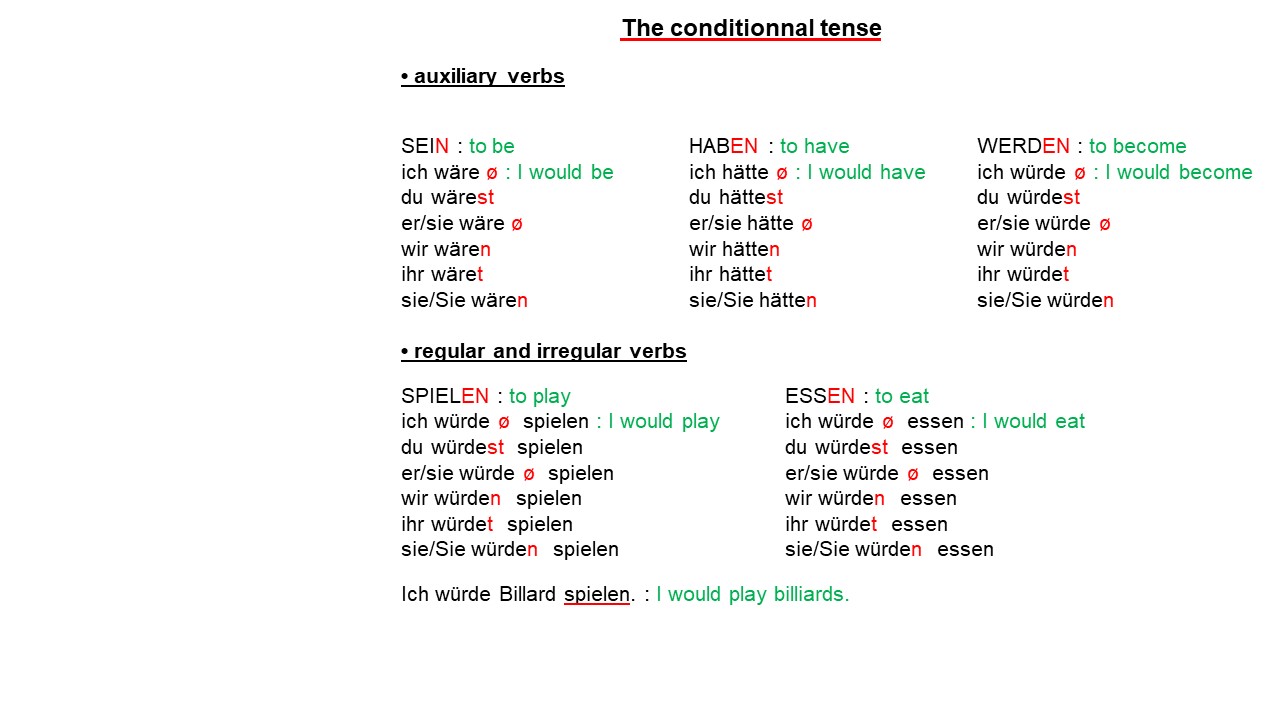 Notice the simple form, which can again be created by umlauting the past form. "ich spielte" becomes "ich spielte". There is just no umlaut for "ie"! This is a major problem of the simple form. If there is no legal way to umlaut the stem vowel, the form just doesn't change. With "essen" you have the past tense "ich aß". This allows an umlaut and will yield "ich äße". The form is theoretically correct and you can use is. But be warned: Unless you are Goethe or you are writing a formal essay, you will either get misunderstanding or laughter. The form is not really used. Instead, we say "Ich würde essen".
Things are never simple in German. In writing, a sentence this to many "würde" sounds clumsy. So use "würde" with care. As a rule of thumb, use the simple forms for "sein, haben, werden" and the periphrastic form for all the rest.
We are have a conditional form of the past. Take the compound past form and put the auxilliary in the conditional. "Ich habe gegessen" becomes "ich hätte gegessen", "Ich war gewesen" becomes "ich wäre gewesen". If you feel extremely confident about your German, try to figure out some passive forms: "ich bin gefragt worden" becomes "ich wäre gefragt worden" and so on.
Some Verbs in the Conditional Mood in German

[

edit

|

edit source

]
Table with the finalizations in the Conditional Mood

[

edit

|

edit source

]
| Pronouns in English | Conditional Tense |
| --- | --- |
| I would ... | Pronoun + würde + verb in the infinitive |
| You would ... | Pronoun + würdest + verb in the infinitive |
| He would ... | Pronoun + würde + verb in the infinitive |
| She would ... | Pronoun + würde + verb in the infinitive |
| We would ... | Pronoun + würden + verb in the infinitive |
| You would ... | Pronoun + würdet + verb in the infinitive |
| They would ... | Pronoun + würden + verb in the infinitive |
| They would ... | Pronoun + würden + verb in the infinitive |
Pronouns

English

ENGLISH
PRONUNCIATIONENGLISH
GERMAN
I
would work
ih kh vewr deh

ahr bye tehn

Ich würde

arbeiten

You
would work
dou vewr deh stih

ahr bye tehn

Du würdest

arbeiten

He
would work
ehr vewr deh

ahr bye tehn

Er würde

arbeiten

She
would work
zee vewr deh

ahr bye tehn

sie würde

arbeiten

We
would work
vee uhr vewr dehn

ahr bye tehn

Wir würden

arbeiten

You
would work (plur)
ih uhr vewr deht

ahr bye tehn

Ihr würdet

arbeiten

They
would work (masc)
zee vewr dehn

ahr bye tehn

Sie würden

arbeiten

They
would work (fem)
zee vewr dehn

ahr bye tehn

Sie würden

arbeiten
Pronouns

English

ENGLISH
PRONUNCIATION

ENGLISH

GERMAN
I
would buy
ih kh vewr deh

cow fehn

Ich würde

kaufen

You
would buy
dou vewr deh stih

cow fehn

Du würdest

kaufen

He
would buy
ehr vewr deh

cow fehn

Er würde

kaufen

She
would buy
zee vewr deh

cow fehn

sie würde

kaufen

We
would buy
vee uhr vewr dehn

cow fehn

Wir würden

kaufen

You
would buy (plur)
ih uhr vewr deht

cow fehn

Ihr würdet

kaufen

They
would buy (masc)
zee vewr dehn

cow fehn

Sie würden

kaufen

They
would buy (fem)
zee vewr dehn

cow fehn

Sie würden

kaufen
Pronouns

English

ENGLISH
PRONUNCIATION

ENGLISH

GERMAN
I
would come
ih kh vewr deh

ahn koh mehn

Ich würde ankommen
You
would come
dou vewr deh stih

ahn koh mehn

Du würdest

ankommen

He
would come
ehr vewr deh

ahn koh mehn

Er würde

ankommen

She
would come
zee vewr deh

ahn koh mehn

sie würde

ankommen

We
would come
vee uhr vewr dehn

ahn koh mehn

Wir würden

ankommen

You
would come (plur)
ih uhr vewr deht

ahn koh mehn

Ihr würdet

ankommen

They
would come (mas)
zee vewr dehn

ahn koh mehn

Sie würden

ankommen

They
would come (fem)
zee vewr dehn

ahn koh mehn

Sie würden

ankommen
Pronouns

English

ENGLISH
PRONUNCIATION

ENGLISH

GERMAN
I
would help
ih kh vewr deh

hehl fehn

Ich würde

helfen

You
would help
dou vewr deh stih

hehl fehn

Du würdest

helfen

He
would help
ehr vewr deh

hehl fehn

Er würde

helfen

She
would help
zee vewr deh

hehl fehn

sie würde

helfen

We
would help
vee uhr vewr dehn

hehl fehn

Wir würden

helfen

You
would help (plur)
ih uhr vewr deht

hehl fehn

Ihr würdet

helfen

They
would help (mas)
zee vewr dehn

hehl fehn

Sie würden

helfen

They
would help (fem)
zee vewr dehn

hehl fehn

Sie würden

helfen
Pronouns

English

ENGLISH
PRONUNCIATION

ENGLISH

GERMAN
I
would let
ih kh vewr deh

lah sehn

Ich würde

lassen

You
would let
dou vewr deh stih

lah sehn

Du würdest

lassen

He
would let
ehr vewr deh

lah sehn

Er würde

lassen

She
would let
zee vewr deh

lah sehn

sie würde

lassen

We
would let
vee uhr vewr dehn

lah sehn

Wir würden

lassen

You
would let (plur)
ih uhr vewr deht

lah sehn

Ihr würdet

lassen

They
would let (mas)
zee vewr dehn

lah sehn

Sie würden

lassen

They
would let (fem)
zee vewr dehn

lah sehn

Sie würden

lassen