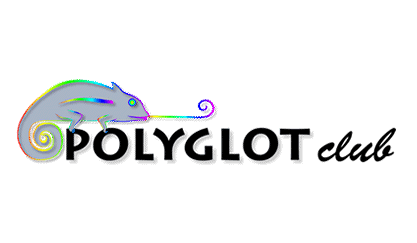 ---
Rosetta Stone Review 2022 Write a review about this language tool.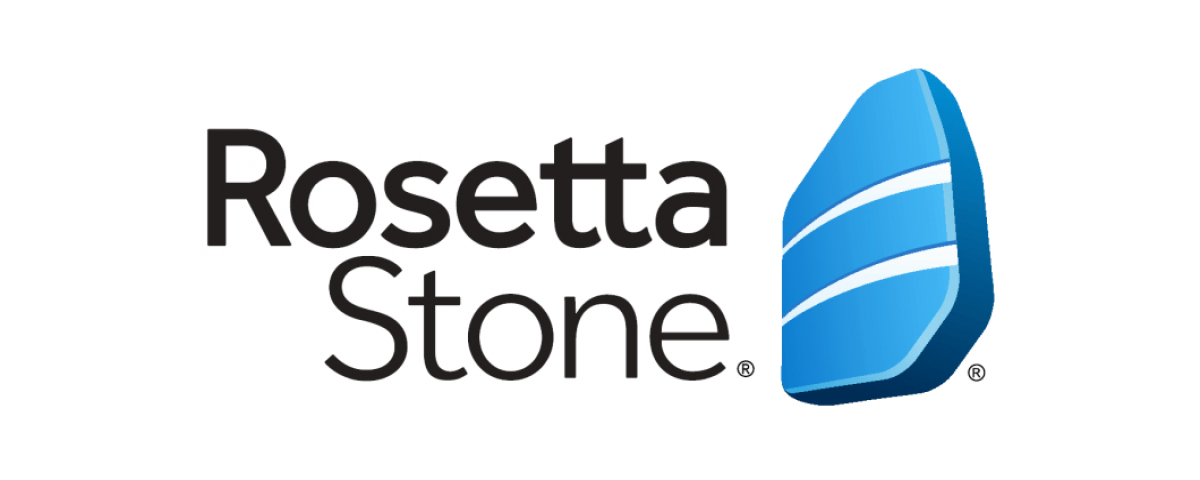 Category: Mobile App
LANGUAGES:

mul

Multiple languages
Minimum Price: 49 €
Summary
Rosetta Stone offers an effective method for mastering a foreign language. Via quizzes with images, Rosetta stone will make you discover vocabulary then it will be reviewed several times over the lessons and exercises. It is based on the visual and the oral by mainly offering audio tracks to be translated by choosing the corresponding image. This technique allows you to work on both the ability to think, but also to practice listening to the language you want to learn. As it can be difficult to get an idea about this type of application, we tested it to make a small summary.
---
I like...
✅ Original learning method

✅ Correct price

✅ Content of the lessons

✅ Complementary courses

✅ Personalized study plan
---
I don't like...
❌ Images too small in quizzes

❌ Camera function not optimal
---
Detailed description
Rosetta Stone: getting started with the application

First arrival on Rosetta stone, you have to choose a foreign language to learn from the long list available. It will also be necessary to choose a study plan, then indicate the level and the objective. Here it should be noted that the application will configure a personalized study plan based on your answers. For example, if you are a beginner, the plan will start with the basics of the language and your goals. In case you already have a certain level, you will start with more advanced level lessons.
As said above, Rosetta Stone will immediately offer to build a personalized study plan. Concretely, thanks to the answers given, i.e. language level + reasons, the app will create a complete schedule. Obviously, it will be possible to change it at any time by going to settings > delete the plan. Once the plan is determined, the home page is presented and you can access all the lessons.
Regarding the plan, we can see that it is divided into weeks and minutes / days. In this example, we want to learn English for work and our level is medium. The application prepares us a 6-week plan with 30 minutes of work per day. Note that obviously the lessons are chosen according to your objectives, for example to speak English at work, the lessons will be materials, meeting people, talking about cost etc.
Every day, the application unlocks access to 3 new lessons. It is possible to directly access the lessons of the subsequent weeks but it is recommended to follow the plan week by week.

Available languages

Rosetta Stone offers the following 21 languages in alphabetic order:
➡ Arabic
➡ Chinese
➡ Dutch
➡ English (US/UK)
➡ Farsi
➡ Filipino
➡ German
➡ Greek
➡ Hebrew
➡ Hindi
➡ Irish
➡ Italian
➡ Japanese
➡ Korean
➡ Portuguese
➡ Russian
➡ Spanish
➡ Swedish
➡ Turkish
➡ Vietnamese
Rates

The premium version of Rosetta Stone offers several prices:
➡ 48.99 € for 3 months for a single language
➡ 119.99 € per year for all 21 languages
➡ 229.99 € for life for all 21 languages

Note that this is one of the few applications that offers lifetime access, ideal for those who do not like subscriptions.
How does Rosetta Stone work?

Once the study plan has been defined, access to the home page is unlocked. It contains the 3 lessons of 10 minutes to be carried out for the day. It must be taken into account that the plan is not mandatory, if you want to start the lessons from the beginning the small "learn" tab on the right allows access to all the lessons.
Let's start the first lesson proposed by the study plan. Directly the application asks what type of voice corresponds to us. This is to prepare speech recognition to assess pronunciation. Concretely, if you follow the plan, you will have 3 lessons of 10 minutes per day 5 days out of 7 and this over 6 weeks. The working time will be the same for all plans, from beginners to advanced.
To illustrate the content of the lessons, let's take a random lesson. The lesson focuses on the theme of purchases, the level is intermediate.
Sample lesson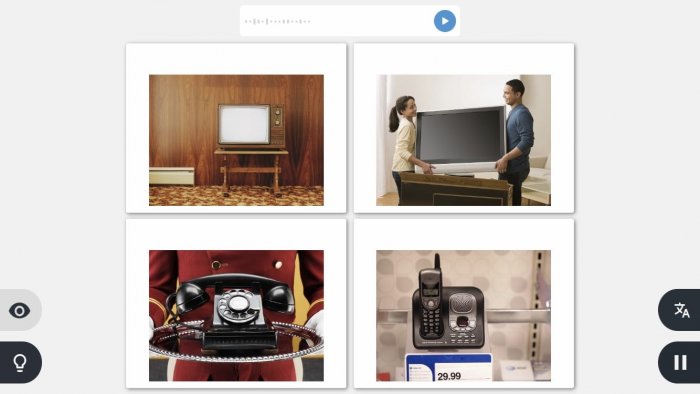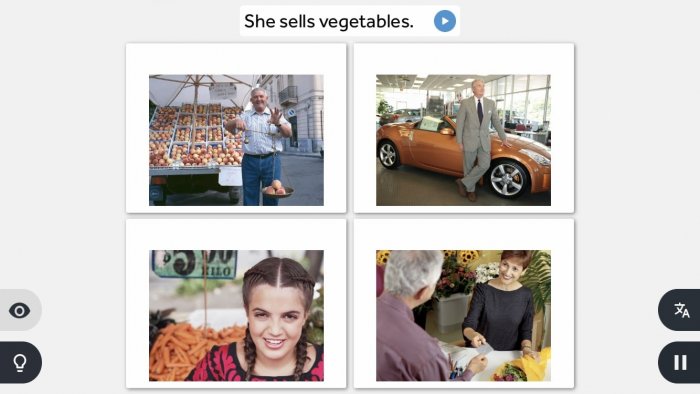 The lessons are divided into several exercises, mainly focused on oral comprehension. For example, in the lesson on purchases, there are several exercises with different situations. First, the application plays an audio extract, without any translation, then you are asked to choose the image that best matches. After that, a sentence is spoken or written, and you also have to find the right image. Thereafter,
Rosetta Stone
will ask us to repeat or complete a sentence orally. These sentences are generally conjugated, depending on your level and always in relation to the vocabulary seen previously.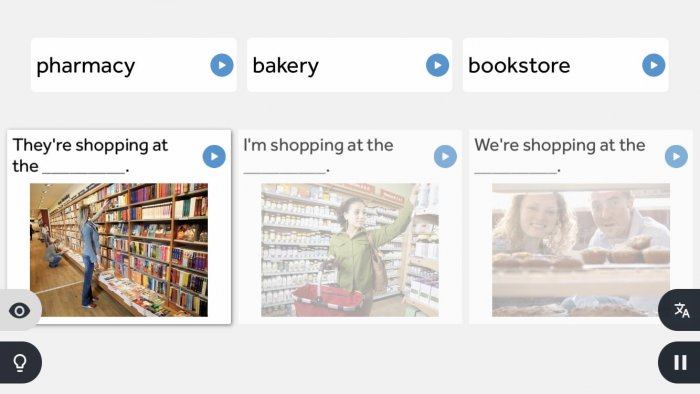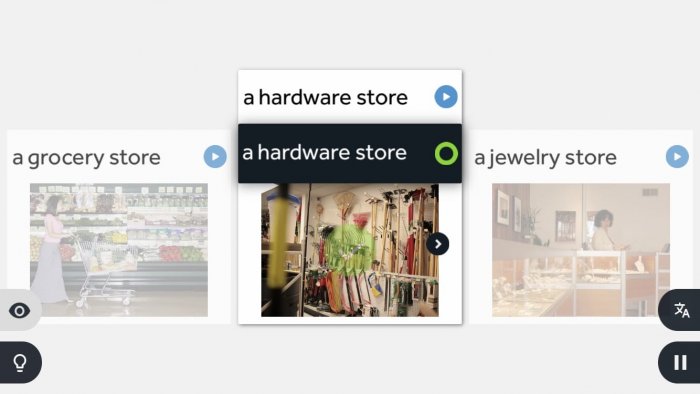 Towards the end of the lesson, the app focuses on comprehension and pronunciation. This is why you will have to fill in blank texts, either through a written translation or only with the sound of the speaker pronouncing the word or sentence. You will also be asked to repeat orally the sentences seen during the lesson. Here we can notice the small green circle which is actually a note of your pronunciation. If the circle is green, you have pronounced the word correctly, if it is red or orange, it is not pronounced correctly and you will have to start over. Overall all words and phrases are seen multiple times in a lesson. First with images to find in relation to a word in English for example. Then, it will be necessary to find an image or a translation only with the audio. Then, you will have to introduce these words into a sentence of everyday life, either by choosing the right image, or by repeating it orally. This mechanism applies to all lessons and aims at repetition to memorize vocabulary and grammar more easily.
The Interface

Getting started with the application is very easy and the interface is uncluttered. We find the reception which displays the lessons of the day to be carried out first. Then the learn section, which includes all the lessons. The advanced and "direct" training tab are courses and features that allow you to go further in learning the language.
Other features
Learn

In this section, it is possible to find all the lessons, ranging from beginner to advanced level. Each course is called a unit and is based on a theme. All units contain several vocabulary/grammar lessons and exercises.
The lessons are classic courses as seen above (oral comprehension, fill-in-the-blank texts, quizzes). Pronunciation exercises are oral repetition activities with voice recorder correction. For the vocabulary exercises, they are basically quizzes but only with the vocabulary words already seen. The grammar part consists of several quizzes and fill-in-the-blank texts concerning only the conjugation and grammar of verbs.
Advanced training

This section contains several features. Seeking and speaking is, like on Memrise, a kind of game to find vocabulary with the camera. Language Guide offers to listen to native speakers speak, then translate their sentences to test their pronunciation. Ideal for hearing people whose native language is the one you want to learn. Histoire offers short audio podcasts that are mini fictions. In this part, you can see several stories for each teaching unit. Audio Companion allows you to download lessons to listen to them without an internet connection.
Live

This is a beta function that allows you to make appointments for coaching, either with a teacher or with other students who have the same level.

Rosetta Stone: advantages and disadvantages
Advantages

✅ The learning method: The application makes learners work in all forms (written, oral and visual). This multitude makes it possible to work all the areas of the brain that deal with memorization. Thus, the app ensures that vocabulary and grammar are worked on optimally, to be retained over the long term.

✅ Lifetime payment: A huge advantage unlike the competition. A lifetime payment provides access to all languages ​​for years. Therefore, it will be very easy to make an investment in Rosetta Stone profitable.

✅ The content of the units/courses: Each unit is complete and each time offers exercises for vocabulary, grammar and pronunciation. This is a great thing to mix theory with practice. Overall, you learn words/phrases and grammar, then you test them right after with different exercises.

✅ Additional courses: Called advanced training, this section offers access to additional lessons/courses. The effort is given to enrich his vocabulary but also to test himself against oral comprehension which includes more difficult words. Added to this, it will be possible to listen to native speakers of a foreign language, ideal for testing your understanding in real conditions.

✅ The personalized study plan: A 6-week plan is offered, whatever your level. This plan makes it possible to feel supported and thus not to lose the thread of learning. In addition, the study plan can be modified at any time depending on the objectives.
The disadvantages

❌ Images, sometimes too small: In some exercises, the images to be selected are small and it is therefore difficult to distinguish the image that corresponds to the question. This inconvenience only concerns certain exercises but can be disturbing all the same.

❌ Camera function not optimal: The search and speak tab allows you to find vocabulary with the phone's camera. However, the algorithm sometimes has trouble finding the definition of the objects displayed to it.
Conclusion – our opinion on Rosetta Stone

In short, Rosetta Stone offers a reliable learning method that allows you to learn a foreign language quickly and effectively. The lessons are very numerous and always complete and the distribution by theme allows for a structured pedagogy.
The application has the advantage of offering a lifetime payment and thus offering the possibility of learning up to 21 languages ​​with a single account. Thanks to this, Rosetta Stone ensures unbeatable value for money. If you use the application every day, even for a few years, it is possible to end up bilingual, trilingual or even polyglot for a much lower price than a language stay for each language.
Learning is based on repetition, as on Mosalingua and this maximizes the chances of memorizing vocabulary and grammar. Even with this repetition, learning on this application remains fun and the feeling of boredom does not come quickly.
So, whether it's learning English for travel or trying out new languages, Rosetta Stone is a good way to learn several foreign languages ​​over the long term, all for a fair price.
Start using Rosetta Stone now!
If you use our affiliate link below to purchase or subscribe to
Rosetta Stone, we earn a commission at no additional cost to you.
Besides, thanks to this financial support, it will help us to develop our site and continue to offer you quality free content.

Start using Rosetta Stone

Reviews
January 2022




I found Rosette Stone to be a good aide in learning a language. I don't think I could have learnt purely from this. This is a good product but where it all goes wrong is in the after sales.

I started learning with Rosette Stone many years ago when I bought a CD in Greek. This was excellent. I stopped using for a couple of years due to work. When I had a bit more time I decided to go back to learning again. The problem was the CD no longer worked. I called Customer Services who informed me this was no longer supported. What a waste of £300! I subscribed to a one year course and as compensation for the CD not working I was given a year free. This in no way compensates for losing the CD which I could go to at anytime and study. I now have to pay each year or pay a lot of money for the life long course. I have seen free language courses online and may well change to one of these.

English
January 2022




The good thing about Rosetta Stone is the immersion, being forced to speak is great and has really helped push my learning. However, often I have no clue what the software is expecting from me and have to figure out what it wants maybe even google a few things first before I can continue learning; which is not good at all.

English
January 2022




I have enjoyed using Rosetta Stone to learn Greek; the speed and environment both suit my learning needs. However, after I took a break I am finding it difficult to get back into the system as there seems to be no straightforward way to revise already completed progress - hence 4 stars rather than 5.

English