Language/Turkish/Vocabulary/Airport
Jump to navigation
Jump to search
---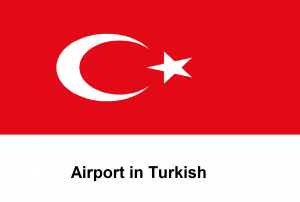 Hello everybody,
In today's lesson you will learn some useful vocabulary about ¨AIRPORT¨ in Turkish.
Feel free to edit this page by adding new words and expressions!
Happy learning! :)
When you have a solid handle on this material, you may be eager to discover these related topics: Nature, Feelings and Emotions, Music & Rooms.
ENGLISH
PRONUNCIATION ENGLISH
TURKISH
PRONUNCIATION BRAZILIAN

PORTUGUESE

BRAZILIAN

PORTUGUESE

THE AIRPLANE
ou chahk
UÇAK
utchák
O AVIÃO
THE AIRLINE
hah yah oh lou
HAYAOLU
Haiaolú
A COMPANHIA

AÉREA

THE AIRPORT
hah vaa lah nuh
HAVAALANI
Havaalanâ
O AEROPORTO
THE ARRIVAL
vah ruhsh
VARIŞ
varâch
A CHEGADA
THE CUSTOMS
gewm rewk
GÜMRÜK
gewm rewk
OS CLIENTES
THE DEPARTURE
kahl kuhsh
KALKIŞ
kaL kâsh
A PARTIDA
DOMESTIC
ih ouhr tih chih
YURTİÇİ
iur ti tchi
DOMÉSTICO
THE FLIGHT
ou choush
UÇUŞ
u tchúch
O VOO
THE HAND LUGGAGE
ehl bah gah zhih
EL BAGAJI
eL bagajâ
A BAGAGEM DE MÃO
INTERNATIONAL
ih ouhrt duh shuh
YURTDIŞI
iurt dâ châ
INTERNACIONAL
THE LUGGAGE
bah gah zhih
BAGAJ
bagáj
A BAGAGEM
THE PASSENGER
ih ohl jou
YOLCU
ioL djú
O PASSAGEIRO
THE PASSPORT
pah sah pohrt
PASAPORT
pasapôrt
O PASSAPORTE
THE RUNWAY
pihst
PİST
pist
A PASSARELA
THE SECURITY CONTROL
gew vehn lihk

kohn troh lou

GÜVENLİK

KONTROLÜ

guy ven lik

con tro lú

O CONTROLE DE SEGURANÇA
THE TERMINAL
tehr mih nahl
TERMİNAL
ter mi náL
O TERMINAL
THE TICKET
bih leht
BİLET
bilét
O BILHETE
THE STEWARDESS
hohs tehs
HOSTES
Hos tes
A AEROMOÇA
THE TAKE OFF
ou chaa uhn

kahlk mah suh

UÇAĞIN

KALKMASI

utchaa ân

kaLk ma sâ

A DECOLAGEM
DELAYED
rer tahr luh
RÖTARLI
rêê tar lâ
ATRASADO
LANDED
ou chahk ih nihsh

yahp tuh

UÇAK İNİŞ

YAPTI

u tchák inich

iartâ

ATERRISADO
| English | Türkçe |
| --- | --- |
| Airplane | Uçak |
| Airline | Havayolu |
| Airport | Havaalanı / Havalimanı |
| Arrival | Varış |
| Customs | Gümrük |
| Departure | Kalkış |
| Domestic | Yurtiçi |
| Flight | Uçuş |
| Hand luggage | El bagajı |
| International | Yurtdışı |
| Luggage | Bagaj |
| Passenger | Yolcu |
| Passport | Pasaport |
| Runway | Pist |
| Security Control | Güvenlik Kontrolü |
| Terminal | Terminal |
| Ticket | Bilet |
| Stewardess | Hostes |
| Take off | Uçağın kalkması |
| Delayed | Rötarlı |
| Landed | Uçak iniş yaptı |