Language/Swedish/Vocabulary/How-to-Say-Hello-and-Greetings
Jump to navigation
Jump to search
---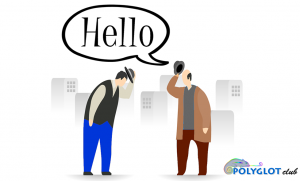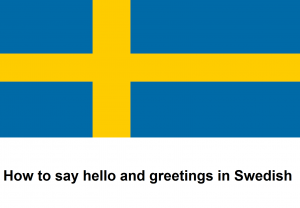 Do you want to learn how to say "Hello" in Swedish?
Greetings are an important part of any language because they allow you to connect and communicate with others.
If you're planning a trip to the country or are trying to learn Swedish, keep reading to discover some of the most important greetings.
Let's get started! 🤗
Take some time to dive into these other pages after completing this lesson: Feelings and Emotions, Swedish Vocabulary → Body parts and health → Symptoms and ..., Geography & Giving directions.
| English | Swedish | Transliteration in English |
| --- | --- | --- |
| informal greetnig | Hej | Hi |
| informal greeting | Hejsan | hi sahn |
| informal greeting | Hallå | hahl laa |
| informal greeting | Morsning | mohs nihn |
| informal greeting | Tja | chah |
| informal greeting | Tjenare | cheh nah reh |
| informal greeting | Tjena | cheh nah |
| informal greeting | Tjabba | chah bah |
| formal greeting | God dag | gohl dohk |
| morning greeting | God morgon | gohl mohr gohn |
| how are you? | Hur är det? | hew ahr deht |
| how are you? | Hur är det med dig? | hew ahr deht med day |
| reply to Hur är det and Hur är det med dig | Det är bra | deht ahr brah |
| reply to Hur är det and Hur är det med dige | Tack, det är bra | tahk, deht ahr brah |
| how are you? | Hur är läget? | hew ahr lah geht |
| how are you? | Hur står det till? | hew stohr deht tihl |
| how are you? | Hur har du det? | hew hahr dou deht |
| how are you?, how are you feeling? | Hur mår du? | hew mahr brah |
| reply to Hur mår du | Jag mår bra | yohk mahr brah |
| reply to Hur mår du | Tack, jag mår bra | tahk, yohk mahr brah |
| reply to Hur är det, Hur står det till, Hur har du det, and Hur mår du | Bra, tack | brah, tahk |
| welcome greeting | Välkommen | vahl kohm mehn |
| noontime and early afternoon greeting (formal, not often used) | God middag | gohd mih dohk |
| afternoon and evening greeting (formal, not often used) | God eftermiddag | gohd ehf tehr mih dohk |
| evening greeting (formal, not often used) | God kväll | gohd kvaal |
| informal greeting spoken in Swedish-speaking areas of Finland [swe-eas] | Morjens | moh ryehns |
| general greeting in the Dalmål [swe-dlc] dialect (used in Dalecarlia) | Góðdag | goo day |
| morning greetingin the Dalmål [swe-dlc] dialect (used in Dalecarlia) | Góðmorgun | goo mohr goon |
| nighttime greeting in the Dalmål [swe-dlc] dialect (used in Dalecarlia) | Góðnát | goo naht |
| informal greeting in the Dalmål [swe-dlc] dialect (used in Dalecarlia) | Høj | hoy |
| general greeting in the Skånska [swe-scy] dialect (Scania region) | Hallå | hahl lah |
| daytime greeting in the Skånska [swe-scy] dialect (Scania region) | Go'da | goh dah |
| morning greeting in the Skånska [swe-scy] dialect  (Scania region) | Go'maren | goh mah rehn |
| afternoon greeting in the Skånska [swe-scy] dialect (Scania region) | Go'aften | goh ahf tehn |
| morning greeting in the Jönköping dialect of Småland | Go'mon | goh mohn |
| general daytime greeting in the Jönköping dialect of Småland | Go'da | goh dah |
| midday greeting in the Jönköping dialect of Småland | Go'medda | goh mehd dah |
| afternoon greeting in the Jönköping dialect of Småland | Go'afton | goh ahf tohn |
| nighttime greeting in the Jönköping dialect of Småland | Go'natt | goh naht |
| daytime greeting in the Götamål dialect of Värmland | Go'daa | goh daa |
| how are you? in the Götamål dialect of Värmland | Höss äre mä re? | hohs ah reh mah ree yah |
Contributors
---
Create a new Lesson