Sindhi Vocabulary: Resources
From Polyglot Club WIKI
---
Sindhi Resource List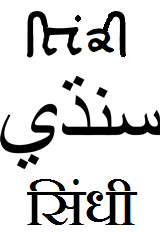 Hello!
➡ Do you want to learn Sindhi but don't know where to start?

Then I've got the perfect resource list for you and you can find its link below!
Let me know if you have any suggestions to improve it.
Here is what the resource list contains:
"Handmade" resources on certain grammar concepts for easy understanding.
Resources on learning the script.
Websites to practice reading the script.
Documents to enhance your vocabulary.
Notes on Colloquial.
Music playlists
List of podcasts/audiobooks And a compiled + organized list of websites you can use to get hold of grammar!
Happy learning!
Join the South Asian Languages server for learning more about the Pahari Languages: https://discord.gg/H2Cj6gP6RW
Basic concept of sindhi grammar || what is grammar, letter, word and sentence || class 3
Basic Sindhi Grammar | Learn Sindhi Grammar | Sindhi for beginners.
Sindhi Audio Lessons (Sindhi Alphabet Phonemes)
· Learn Sindhi. Study Sindhi. Speak Sindhi. 
· https://www.youtube.com/c/SindhiSikhya1
· Learn Sindhi Alphabets - Part 1 |Learn to Read and Write Sindhi from Hindi | Sindhi Akhar Sikhoon |
· Learn before Sleeping - Sindhi (native speaker) - with music
· Basic Sindhi Language | Sindhi Alif Bay | Learn Sindhi with pronunciation | the educational hub.
· SINDHI SIMPLE CONVERSATION @Sangeet School #sangeetschool
· https://www.youtube.com/channel/UCkn-j4OaB_xV3fl_dVZ0EOg/about   
Contributors
---
Create a new Lesson