index.php
From Polyglot Club WIKI
---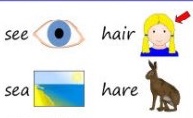 Homophones
In English, there are some words that have the exact same pronunciation but different meanings and different spellings.
These words are called homophones.
Why is the Knowledge of Homophones Essential?
Since they are pronounced identically or nearly identically, language learners must take care not to misunderstand or become confused when listening to spoken conversation.
In order to be certain of the meanings of these homophones, the language learner must master them and acknowledge their different meanings.
At any rate, in cases of confusion, the context of the use of the words in conversation might help out.
Below are some famous homophones that language learners should look out for:
| Word | Homophone |
| --- | --- |
| Bale | Bail |
| Band | Banned |
| Bare | Bear |
| Berry  | Bury |
| Blew  | Blue |
| Bore | Boar |
| Bored | Board |
| Brake | Break |
| Bread | Bred |
| Cache | Cash |
| Carrot | Karat |
| Cell | Sell |
| Check | Cheque |
| Click | Clique |
| Cue  | Queue |
| Day | Dais (UK & American New England pronunciation) |
| Deer  | Dear |
| Die | Dye |
| Dire | Dyer |
| Doe | Dough |
| Fairy | Ferry |
| Fare | Fair / Faire |
| Fare  | Fair |
| Feet  | Feat |
| Find | Fined |
| Flour | Flower |
| Flow | Floe |
| For | Four |
| Fore | For / Four |
| Gate   | Gait |
| Great  | Grate |
| Grown | Groan |
| Hair | Hare |
| Heard | Herd |
| Hi | High |
| Hire  | Higher |
| Hole | Whole |
| Hour | Our |
| Knight | Night |
| Knot  | Not |
| Know  | No |
| Lead | Led |
| Lone | Loan |
| Made | Maid |
| Mail  | Male |
| Medal | Meddle |
| Meet  | Meat |
| Metal | Mettle |
| Might | Mite |
| New | Knew |
| New | Gnu |
| Nun  | None |
| One  | Won |
| Pair | Pare |
| Peace | Piece |
| Plain | Plane |
| Poor | Poor / Pore |
| Pray | Prey |
| Sale | Sail |
| Sea | See |
| Shiek | Chic |
| Shiek | Shake |
| Sight | Site |
| Sight | Site/ Cite |
| Sign | Sine |
| Slay | Sleigh |
| Slough | Slew |
| Son  | Sun |
| Soul | Sole |
| Staid | Stayed |
| Stake  | Steak |
| Steal | Steel |
| Symbol | Cymbal |
| Tear | Tier |
| Tear | Tare |
| Their  | There |
| Through | Threw |
| Tide | Tied |
| To | Two |
| To | Too |
| Wait | Weight |
| Walk | Wok |
| Won | One |
| You | Ewe |