Ukrainian Pronunciation: Alphabet and Pronunciation
From Polyglot Club WIKI
---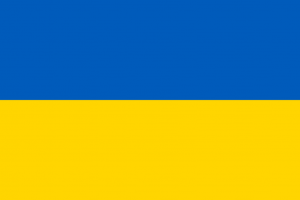 Ukrainian Alphabet, IPA Pronuncation, Video, Virtual Keyboard...
Hi Ukrainian learners! 😃

The Ukrainian alphabet is the set of letters used to write Ukrainian, the official language of Ukraine. It is one of the national variations of the Cyrillic script. The modern Ukrainian alphabet consists of 33 letters.

In today's lesson, you will learn how to write the different letters of the Ukrainian alphabet, how to pronounce these letters whether it is through the International Phonetic Alphabet (IPA), or through a video with the pronunciation of the letters by a native speaker.
You will also find at the end of this lesson a virtual keyboard to be able to type each special character of this language.
Ukrainian Alphabet and IPA Pronunciation
[
edit
|
edit source
]
Letter
А

а

Б

б

В

в

Г

г

Ґ

ґ

Д

д

Е

е

Є

є

Ж

ж

З

з

И

и

І

і

Ї

ї

Й

й

К

к

Л

л

М

м

Н

н

О

о

П

п

Р

р

С

с

Т

т

У

у

Ф

ф

Х

х

Ц

ц

Ч

ч

Ш

ш

Щ

щ

Ь

ь

Ю

ю

Я

я

'
IPA
/ɑ/
/b/
/v/
/ɦ/
/ɡ/
/d/, /dʲ/
/ɛ/
/jɛ/ or /ʲɛ/
/ʐ/
/z/, /zʲ/
/ɪ/
/i/, /ʲi/
/ji/
/j/
/k/
/l/, /lʲ/
/m/
/n/, /nʲ/
/ɔ/
/p/
/r/, /rʲ/
/s/, /sʲ/
/t/, /tʲ/
/u/
/f/
/x/
/t͡s/, /t͡sʲ/
/ʈ͡ʂ/
/ʂ/
/ʂʈ͡ʂ/
/◌ʲ/
/ju/ or /ʲu/
/jɑ/ or /ʲɑ/
Name
а /ɑ/
бе /bɛ/
ве /wɛ/
ге /ɦɛ/
ґе /ɡɛ/
де /dɛ/
е /ɛ/
є /jɛ/
же /ʐɛ/
зе /zɛ/
и /ɪ/
і /i/
ї /ji/
йот /jɔt/, й /ɪj/
ка /kɑ/
ел /ɛl/
ем /ɛm/
ен /ɛn/
о /ɔ/
пе /pɛ/
ер /ɛr/
ес /ɛs/
те /tɛ/
у /u/
еф /ɛf/
ха /xɑ/
це /t͡sɛ/
че /ʈ͡ʂɛ/
ша /ʂɑ/
ща /ʂʈ͡ʂɑ/
м'який знак /mjɑˈkɪj ˈznɑk/
ю /ju/
я /jɑ/
апостроф /ɑˈpɔstrɔf/
Transliteration
a
b
v
h
g
d
e
je
ž
z
y
i
ji
j
k
l
m
n
o
p
r
s
t
u
f
ch
c
č
š
šč
ʹ
ju
ja
Pronunciation: English Approximant
[
edit
|
edit source
]
| | |
| --- | --- |
| Upright | English equivalent |
| Аа | like in "bus" |
| Бб | like in "best" |
| Вв | like in "vest" |
| Гг |   |
| Ґґ | like in "ground" |
| Дд | like in "deck" |
| Ее | like in "end" |
| Єє | like in "yellow" |
| Жж | like in "pleasure" |
| Зз | like in "zap" |
| Ии | like in "trip" |
| Іі | like in "bee" |
| Її | like in "yeast" |
| Йй | like "j" sound in "play" |
| Кк | like in "crowd" |
| Лл | like in "loud" |
| Мм | like in "mother" |
| Нн | like in "nest" |
| Оо | like in "folk" |
| Пп | like in "pride" |
| Рр | like in "rest" but harder |
| Сс | like in "steak" |
| Тт | like in "test" but not so soft |
| Уу | like in "bull" |
| Фф | like in "fun" |
| Хх | like in "heart" |
| Цц | like "ts" in "tsunami" |
| Чч | like in "chest" |
| Шш | like "sh" in "shelf" |
| Щщ | combination of "sh" and "ch" |
| Ьь | a soft sign |
| Юю | like in "you" |
| Яя | like in "yard" |
Video - Ukrainian Alphabet Pronunciation by a Native Speaker
[
edit
|
edit source
]
Ukrainian Online Virtual Keyboard
[
edit
|
edit source
]