Swahili-individual-language Vocabulary: «Useful Sentenses»
From Polyglot Club WIKI
---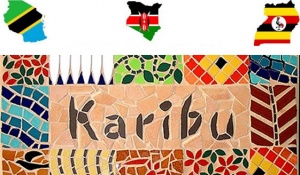 Swahili belongs to the Bantu language group, a term for all the languages of Central, Eastern and Southern Africa. It borrows many words of Arabic origin, English, Portuguese and a little German.
Swahili serves as a national language of three nations: Tanzania, Kenya, and the Democratic Republic of the Congo.
For someone who has the facilities to grasp a new language, Swahili is easy. But for people who have trouble learning new vocabulary by heart and understand the logic of a language other than their own, Swahili is not so obvious!
| | |
| --- | --- |
| | I |
| | We |
| | You (singular) |
| | You (plural) |
| | He |
| | She |
| | They |
| | Hello! (Local version) |
| | Welcome |
| | Please |
| | Thank you |
| | Thank you very much |
| | Goodbye |
| | How are you? |
| | Well, thank you! |
| | Yes |
| | No |
| | Gently |
| | I'm happy |
| | Water |
| | Drink |
| | Eat |
| | Cold |
| | Congratulations! |
| | I do not speak Swahili. |
| | I do not understand. |
| | I do not know. (very useful and easy to remember!) |
| | What is your name? |
| | My name is ______ . |
| | Where are you coming from? |
| | Excuse me. (getting attention) |
| | Please forgive me. |
| | Good night. |
| | Sleep well. |