Language/Slovenian
Jump to navigation
Jump to search
---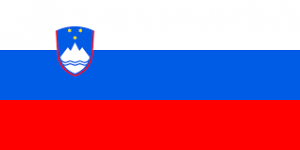 Hi Polyglots! 😃

Welcome to the Slovenian learning page!
You will find below many free resources to learn and practice this language.

Enjoy your learning journey with Polyglot Club! 😊
Language code (ISO 639-3): slv
Autonyms (how to write "Slovenian" in Slovenian): Slovenski jezik / Slovenščina
Other names for "Slovenian": Slovene, Slovenšcina, Slovenian, Slovenski jezik ("Windisch")
The Slovenian language is spoken in: Slovenia

Slovene or alternatively Slovenian is a South Slavic language spoken by the Slovenes. It is spoken by about 2.5 million speakers worldwide, the majority of whom live in Slovenia, where it is one of the three official languages. As Slovenia is part of the European Union, Slovene is also one of its 24 official and working languages.
https://en.wikipedia.org/wiki/Slovene_language
• Inštitut za slovenski jezik Frana Ramovša: Fran Ramovš Institute of Slovenian Language
• Slovar slovenskega knjižnega jezika: Dictionary of the Slovenian language
• Slovar novejšega besedja slovenskega jezika: dictionary of the new words of the Slovenian language (2012)
• Slovar stare knjižne prekmurščine: dictionary of the Prekmurje dialect (East Slovenia & Hungary) by Vilko Novak (2006)
• Besedje slovenskega knjižnega jezika 16. stoletja: vocabulary of the literary Slovenian language of the 16th century, by Kozma Ahačič (2011)
• Slovar jezika Janeza Svetokriškega: dictionary of the Janez Svetokriški's language (beginning 17th) by Marko Snoj (2011)
• Slovensko-nemški slovar: Slovenian-German dictionary, by Maks Pleteršnik (1894)
• Dictionarium latino-carniolicum: Slovenian-Latin dictionary, by Matija Kastelec, revised by Gregor Vorenc (1710)
• Inštitut za slovenski jezik Frana Ramovša (Bos portal) search in the text & Slovenian corpus
• Lingea: Slovenian-English dictionary & multilingual
• Iate: multilingual terminological dictionary (European Union)
• Slovenian for travelers: Slovenian-English vocabulary by topics, with pronunciation & sound
• Goethe-Verlag: Slovenian-English common phrases & illustrated vocabulary (+ audio)
• Presis: online Slovenian-English translation
• Complete Dictionary of the English and Slovene Languages for general use, by Frank Jauh Kern (1919)
• Slovenian-English dictionary & English grammar for Slovenian people, by Victor Kubelka (1912)
• Slovenian-English pocket dictionary by Victor Kubelka (1904)
• Slovensko-nemški slovar: Slovenian-German dictionary, by Maks Pleteršnik (1894) A-O & P-Ž
• Deutsch-slovenisches Wörterbuch: German-Slovenian dictionary, by Matej Cigale (1860) A-L & M-Z
• Wörterbuch der slovenischen und deutschen Sprache: Slovenian-German dictionary, by Anton Janežič (1851)
• German-Slovenian dictionary
• Dialoghi italiani, tedeschi e sloveni: dialogues in Italian, German and Slovenian, by Joseph Premru (1850)
• Tu malu besedishe treh jesikov, Das ist: das kleine Wörterbuch in dreyen Sprachen, Quod est: parvum dictionarium trilingue: Slovenian-German-Latin dictionary, by Marko Pohlin (1791)
• Deutsch-windisches Wörterbuch: German-Slovenian dictionary, by Oswald Gutsmann (1789) or PDF
• Dictionarium trilingue ex tribus nobilissimis Europæ linguis compositium, latino-germanico-sclavonicum by Hipolit Novomeški (1711)
• Dictionarium quatuor linguarum videlicet, germanicæ, latinæ, illyricæ, (quæ vulgo sclavonica appellatur) & italicæ, sive hetruscæ: German-Latin-Slovenian-Italian dictionary, by Hieronimus Megiser (1592) or PDF
• The etymology of Ljubljana-Laibach by Tijmen Pronk, in Folia onomastica croatica (2007)
• Slovenian place names in Carinthia (Austria), by Heinz-Dieter Pohl, in Onomàstica (2016)
• Ortsnamen slawischer bzw. slowenischer Herkunft in Kärnten und Osttirol, in Namenkundliche Informationen (2011)
• Slowenische Namen und Wörter aus Kals in Osttirol: Slovenian names and words of Kals (East Tyrol, Austria), in Jezikoslovni zapiski (2007)
• Slovene place names with the suffix -ina: some difficult cases and implications for south Slavic onomastics, by Marko Snoj, in Slovene linguistic studies (2009)
• The English-Slovene language contact: borrowing of personal names, by Eva Sicherl, in Linguistica (2015)
https://www.lexilogos.com/english/slovenian_dictionary.htm
Slovenian Online Virtual Keyboard
[
edit
|
edit source
]
Contributors
---
Create a new Lesson