Language/Kabyle
Jump to navigation
Jump to search
---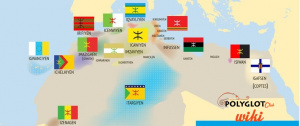 Hi Polyglots! 😃

Welcome to the Kabyle learning page!
You will find below many free resources to learn and practice this language.

Enjoy your learning journey with Polyglot Club! 😊
Language code (ISO 639-3): kab
Other names for "Kabyle": taqbaylit [θæqβæjliːθ], tifinagh: ⵜⴰⵇⴱⴰⵢⵍⵉⵜ, Amazigh, Kabyl, Kabylia, Tamazight
The Kabyle language is spoken in: Algeria
---
Kabyle or Kabylian is a Berber language spoken by the Kabyle people in the north and northeast of Algeria.
It is spoken primarily in Kabylia, east of the capital Algiers and in Algiers itself, but also by various groups near Blida, such as the Beni Salah and Beni Bou Yaqob.
The number of speakers is estimated at around 3.5 million in Kabylia and around 6 million worldwide, mainly in Algiers and France. It is the second most spoken Berber language, after Chleuh (southern Morocco).
In Algeria, it is the first Berber language in number of speakers, followed by Chaoui. In North Africa it ranks second after chleuh.
On April 10, 2002, a revision of the Algerian constitution added article 3bis, which recognized Berber as the national language.
In early 2016, as a Berber language, Kabyle acquired the status of official language in Algeria through a new revision of the constitution.
Learn the basics of the amazigh (kabyle) language
[
edit
|
edit source
]
Traditional dance — Traditional music — Traditional clothing — Holidays and celebrations — Dining out — Food items — Conjunctions — Prepositions — Travel essentials — Modes of transportation — Adverbs — Relationships — Family members — Future tense — Past tense — Present tense — Irregular verbs — Regular verbs — Telling time — Numbers — Nouns and gender — Introducing yourself — Common greetings — Basic sentence structure — Alphabet and pronunciation — 0 to A1 Course — How to Use Have — How to Use Be — How to say Good Bye? — Health