Help/Event/Paris/Covid
From Polyglot Club WIKI
---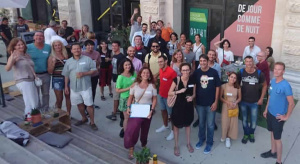 Polyglot Club est de retour à Paris !
[
edit
|
edit source
]
Salut les polyglottes!
Nous espérons que vous allez tous bien, ainsi que vos familles et vos amis !
Bonne nouvelle ! A partir du samedi 6 juin, nous avons le feu-vert pour recommencer les soirées polyglottes !
Comme vous le savez, le gouvernement a autorisé la réouverture des bars et restaurants mais avec certaines restrictions :
1 personne à la fois
DÉSINFECTEZ les mains
Portez un MASQUE
Limitez les CONTACTS physiques et matériels
Respectez une DISTANCE physique : 1 m
Respectez le SENS de circulation
Favorisez le paiement SANS CONTACT
Maximum : 10 personnes par table
Minimum : 1 m entre tables
Évitez les contacts physiques
Respectez le voisinage: parlez à voix basse
Dans tous les cas, votre hôte Polyglot Club sera là pour vous rappeler ce protocole :).
Polyglot Club is back in Paris!
[
edit
|
edit source
]
Hi polyglots!
We hope you are all well, as well as your families and friends!
Good news ! From Saturday June 6, this is the return of our polyglot gatherings!
As you know, the government has authorized the reopening of bars and restaurants but with certain restrictions:
1 person at a time
DISINFECT hands
Wear MASK
Limit physical and material CONTACTS
Respect physical DISTANCE: 1 meter
Follow the ARROWS around the bar
Promote CONTACTLESS payment
Maximum: 10 people per table
Minimum: 1 meter between tables
Avoid physical contact
Respect neighbors: lower your voice
In all cases, your Polyglot Club host will be there to remind you of this protocol :).
Contributors
---
Create a new Lesson