Help/Event/Marseille/Fee
From Polyglot Club WIKI
---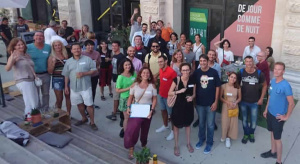 Dear Polyglot Club members,

Polyglot Club organizes language exchange events every Wednesday in Marseille.
See: https://polyglotclub.com/france/provence-alpes-cote-dazur/marseille/event/22922
Some participants were wondering why Polyglot Club was charging 2 euros to each participant, although they already had to buy a drink at the bar.
The bar VV in Marseille did not agree to pay directly a commission to Polyglot Club.
However, the bar agreed that we collect a fee for each participant.

Therefore, to attend our event every Wednesday in Marseille, you need to pay:

1. An entrance fee of 2 € to support the Polyglot Club association. Please, bring some change.
This helps cover expenses (PolyglotClub.com website, ads, posters, meetup fees...) and, most of all, keep the Polyglot Club organizers and hosts motivated.

2. One Drink to support the bar hosting us

In one word, without this fee, the association could not organize events in this new bar.

Many thanks for your understanding. :)

The Polyglot Club team in Marseille.
Chers membres Polyglot Club,

Le Polyglot Club organise des échanges linguistiques tous les mercredis à Marseille.
Voir : https://polyglotclub.com/france/provence-alpes-cote-dazur/marseille/event/22922/translate-french
Certains participants se demandent pourquoi payer 2€, alors qu'il faut déjà acheter un verre au bar.
Le bar VV à Marseille n'a pas accepté de payer directement une commission au Polyglot Club.
Cependant, il a accepté que nous prélevions directement un droit d'entrée auprès de chaque participant.

Par conséquent, pour assister à notre événement tous les mercredis à Marseille, vous devez payer:

1. Un droit d'entrée de 2 € pour soutenir l'association Polyglot Club. S'il vous plaît, apportez de la monnaie.
Cela permet de couvrir les dépenses (site Web PolyglotClub.com, annonces, affiches, frais Meetup.com, etc.) et, surtout, maintenir les organisateurs et les animateurs du Polyglot Club motivés.
2. Un verre pour soutenir le bar qui nous héberge

En un mot, sans ces droits d'entrée, l'association ne pourrait pas organiser d'événements dans ce nouveau bar.

Merci beaucoup pour votre compréhension. :)

L'équipe Polyglot Club Marseille.
Contributors
---
Create a new Lesson