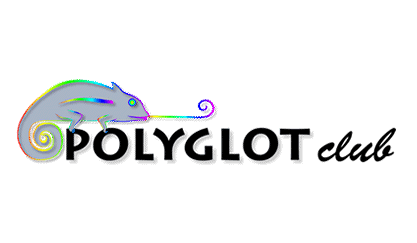 ---
Italki Review 2022 Write a review about this language tool.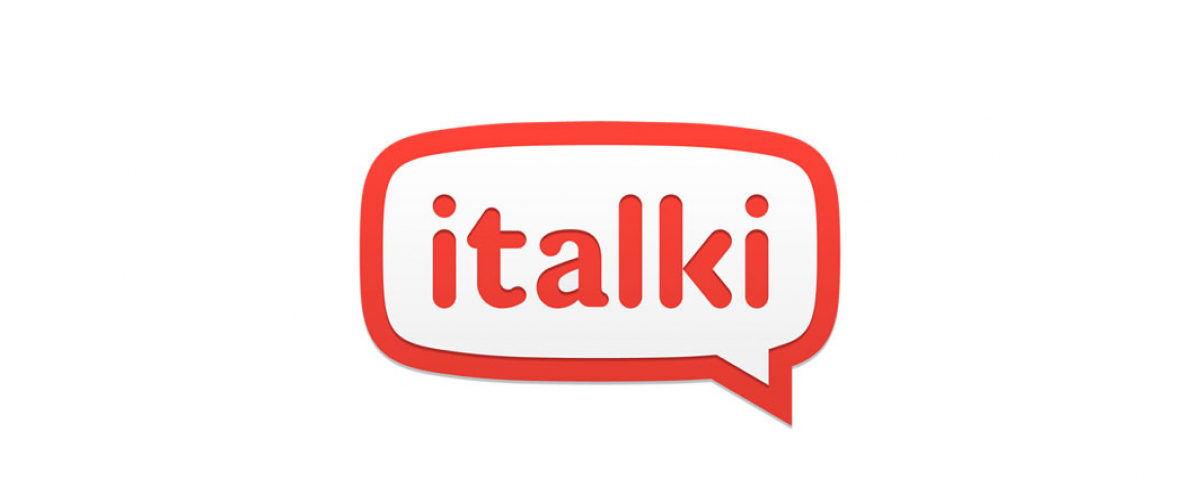 Category: Website
LANGUAGES:

mul

Multiple languages
Minimum Price: 5 €
Summary
Italki is one of the biggest language tutoring platform on the internet. The app and website connects you with language teachers from around the world for 1-on-1 lessons.
Today, it offers up to 150 languages, distributed among 10,000 teachers of various nationalities.
It has a clear and intuitive interface.
---
I like...
✅ Huge community of teachers and learners
✅ Very affordable lessons due to competition between teachers
✅ Clear and easy to use interface
✅ Teacher presentation videos
✅ The distinction between "professional teacher" and "community tutor"
✅ Great search tools
✅ Convenient booking system
✅ The quality of the articles
---
I don't like...
❌ Price and the quality of teachers vary
❌ Difficulty finding a teacher due to the number
❌ Risk of spam and harassment common to all dating sites
❌ Many teachers tend to fake or inflate their credentials and experience
❌ Low prices for sellers (wild competition)
❌ No "instant lesson" feature
---
Detailed description
How it works
Step 1: Choose the language and the teacher

The first thing to do is to select the language you are interested in. Then, a list of teachers able to teach this language is proposed. Most are natives and already have a lot of lessons under their belt. A guarantee of security and stability on the site, which also offers a 5-star rating system.

Many criteria differentiate teachers, and it is possible to refine your search according to your preferences. For example, the type of teacher (Professional teacher or Community tutor), their availability, their origins or their other languages spoken.

Each teacher also provides a short video presentation (in addition to a written presentation) in which he or she will present his or her background and specificities. This element is very valuable because it allows you to capture the personality of the teacher, which can be of great importance if you plan to take several hours of lessons.
Step 2: Select lesson type, date and time

When clicking on a teacher's profile, a more detailed page is displayed, with a lot of information, such as: CV, statistics, prices and types of lessons.

Here, it is the choice of the type of lesson that interests us because this is what will determine the framework and will inform the teacher of your level and your desires.

Are you a beginner, intermediate or advanced? Rather grammar or conversation? This is what your future teacher wants to know in order to best prepare his course.

Many also offer a 30-minute "Trial Lesson" at a reduced rate for newcomers! This option is ideal for a first contact because it allows you to discuss your expectations and assess your feeling with the teacher, an essential criterion in learning a language.

Regarding the date and time of the lesson, each teacher must propose and update their personal calendar, highlighting their availability, hour by hour. Once you have clicked on the profile that interests you, its schedule will be available for consultation in detail and sometimes over several months.

The time slots vary a lot from one teacher to another, depending on their popularity or the time they devote to it.
Step 3: Let's talk!

Once you have found the right profile, the right lesson and the right slot, all you have to do is validate your choice and wait for the big day!

The lesson will take place via webcam, usually via Skype or Zoom, the most commonly used communication softwares for a language exchange.

It is advisable to prepare at least the first lesson, in order to be able to introduce yourself and express your expectations and objectives. The more a teacher knows about his student, the better equipped he will be to adapt and optimize his teaching. The goal here is to progress!
The teachers

One of Italki's strengths is that it clearly distinguishes between "teachers" and "tutors". The teachers have an official diploma to present.
In reality, there are good and bad in both categories, but reliability, seriousness and follow-up will be more frequent among "certified teachers".

The choice between a teacher or a tutor also depends on your needs. A tutor will be suitable for simple guided conversations while a teacher will be suitable for more academic and structured lessons.
Search Engine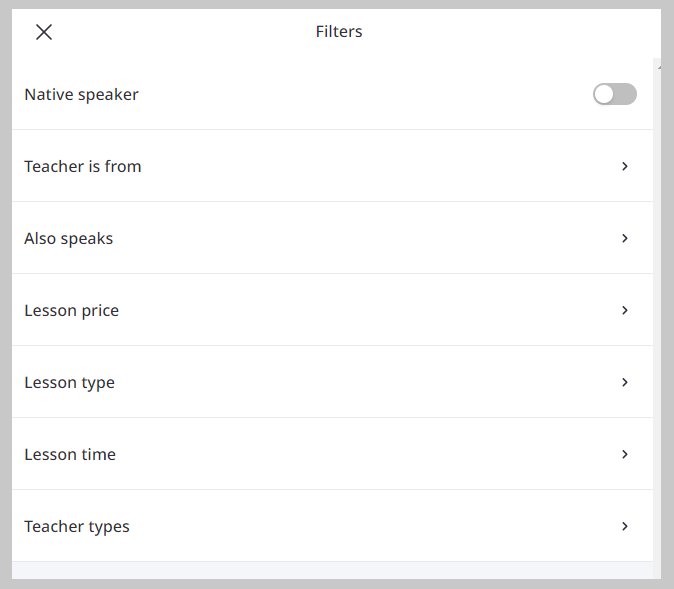 The platform has a huge base of teachers, which will give you a problem of choice.
We advise you not to try learning with several teachers before embarking on a long cycle. This will allow you to test different pedagogical approaches…
The competition being very high, it gives you the feeling that "the customer is king".
The presentations of the sellers are more and more professional.
Even if the choice is important, make your requests politely and respect people.
A first selection allows you to make a pre-list before consulting the detailed files.
The well-thought-out criteria (areas of expertise, native or not, price range, languages spoken, origins, type of teachers, etc.) allow you to refine your selection and discover very complete profiles of the speakers. This is the heart of the site's engine and its capital efficiency for your search.
The complicated thing is to know yourself well and choose the teacher or tutor who will really help you progress.
Profiles
Profile Summary
Here is an example of a profile summary that appears when you have launched a search

Detailed profile
Here is an example of a detailed profile that appears when you click on a summary: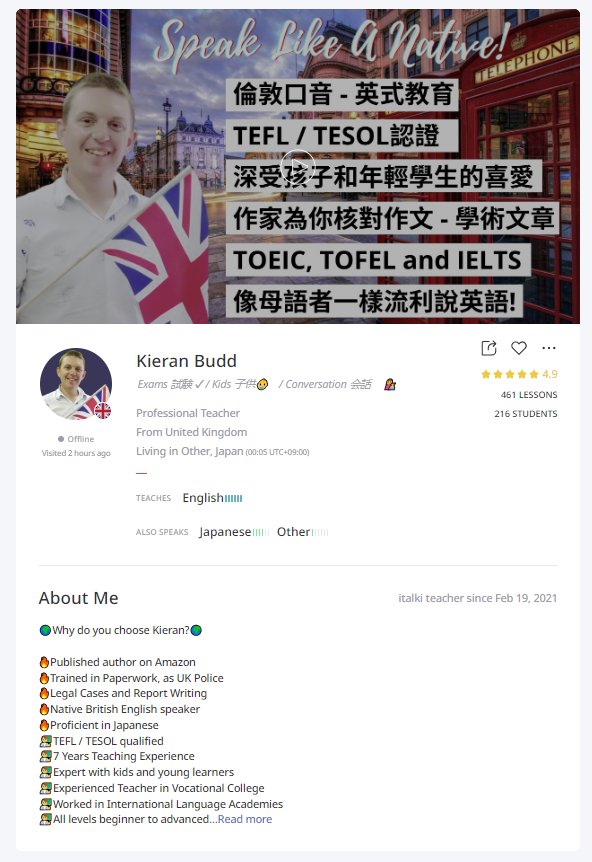 Reviews and comments from previous students are very important and will surely condition your choice. However, like all these platforms, not all reviews can be verified. Friends are always ready to give positive reviews. It will be up to you to evaluate these reviews and judge whether they are sincere or not.
The CV will be of interest to some, but the number of lessons given and students enrolled will be very useful for you to judge the quality of the teacher.
Community

Italki is also an exchange network with a large community
The search is very simple with a pre-list corresponding to your criteria.
Due to the number of profiles, it is very easy to find a match. The trick is to know what you are going to do with the person and if it is a good match for you.

The adventure then begins and do not forget that having 50 language exchange friends can be very time consuming and that not all of them may be sincere.
Beware of fake profiles and scams.
Articles

The multitude of teachers on Italki has generated an impressive number of quality articles.
Those excellent educational and informative articles (suggested among others by the teachers) are pleasant to read.
Prices and Payment

Prices are clearly displayed. Trial lessons at a reduced price are generally offered as decreasing prices according to the teachers. Different payment currencies are available.

You order directly from the profile with the display of the different prices of each teacher (trial course, normal course, pro course, etc.). Read the conditions of use of the site as well as those for cancellations.

The payment of the lessons to the teacher will only be made after the lesson following your confirmation and feedback. This helps prevent scams.
How to make a living using italki as a teacher

You can teach your mother tongue (or a language you are almost native to). This has become very popular in recent years, which has led to much stricter policies for accepting teachers on the platform.

Unfortunately, many teachers fake or inflate their credentials and experience (more difficult these days since you have to upload your credentials and prove who you are). Either way, be honest and don't be one of those people.

Once you've gone through the registration process and uploaded the required documentation, you'll be able to set your own schedule and rate (minus the 15% part italki takes).

Most important: keep your students happy and offer them maximum value, more than they ask for.
Start with low prices to get good reviews. Then increase your prices gradually.
Conclusion: our opinion on Italki

Learning a language through Italki is truly possible no matter what time zone you are in or what part of the world you are based. It's plainly a flexible website and app that is truly student-centered.
The large number of teachers can make it difficult to make a choice quickly, but offers the possibility of finding a competent, inexpensive teacher who will meet your requirements.
The site is very intuitive, secure and professional.
It should be noted however that the price and the quality of the language tutor can vary depending on the filters that you will apply.