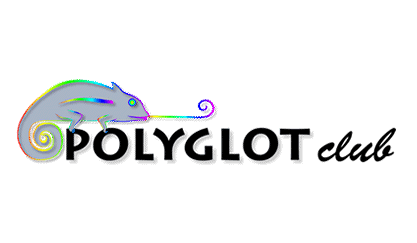 ---
Mondly Review 2023 Write a review about this language tool.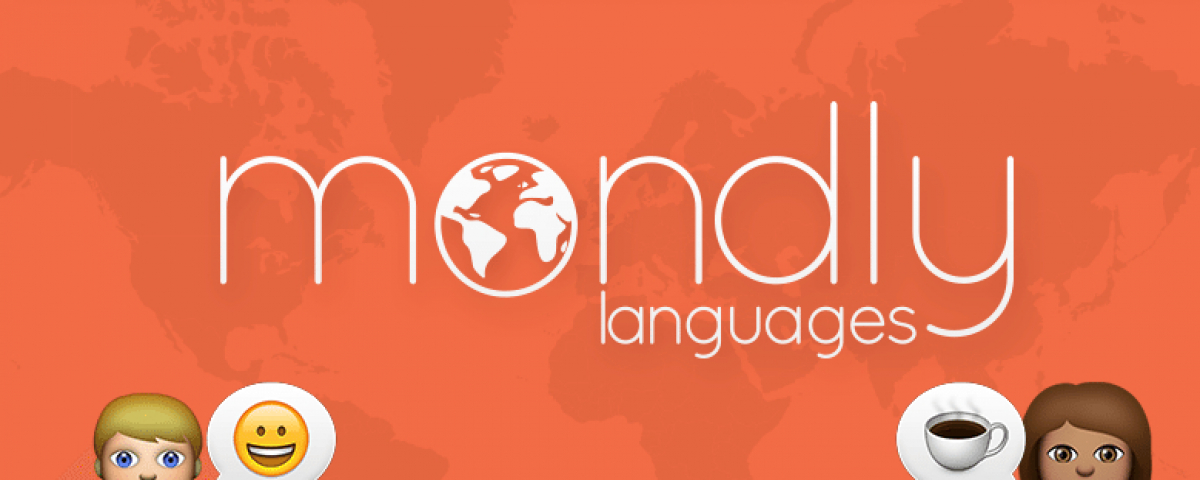 Category: Mobile App
LANGUAGES:

mul

Multiple languages
Minimum Price: 9.99 €
Summary
Mondly
is an award-winning language learning app that is currently very popular. It offers a combination of lessons focused on translations and games, course materials, unique augmented reality (
AR
) features and a chatbot.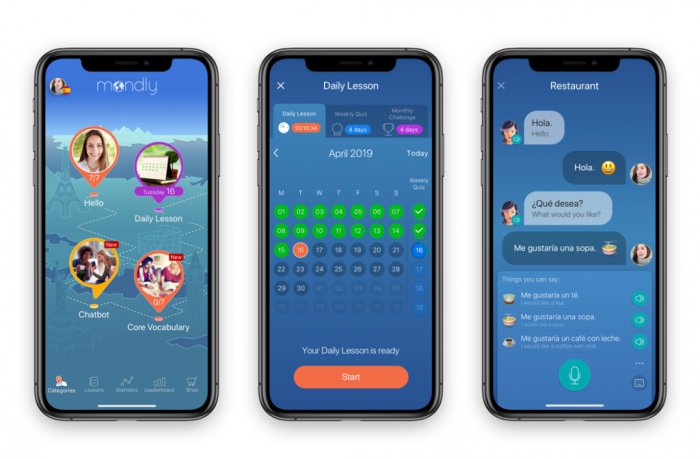 Currently the app supports 33 languages ​​with a variety of learning options:
➡
MondlyWORKS
: This version is best suited for businesses, as it helps them meet the demands of the global economy for multilingual staff. It offers business-to-business solutions to overcome the obstacles of an internationalized market.
➡
MondlyAR
: This option scans your space using augmented reality to show you the words you are learning. It's more like a lecture. Here, learners can interact with the animations.
➡
MondlyVR
: This formula looks like a chatbot. If you choose to use augmented reality technology, you are taken through a simulated situation. This means that if you follow, for example, the "Hotel" lesson, virtual reality takes you to the reception of a hotel.
➡
MondlyKIDS
: This option is kid friendly with fun illustrations.
---
I like...
✅ Inexpensive for a single language

✅ Innovative features to interest you

✅ A wide range of source and target languages

✅ Good as a complementary study application to another program or class.

---
I don't like...
❌ Advanced and intermediate levels not very different from beginner

❌ Lack of grammar lessons for languages that need them

❌ Unable to slow sound in listening exercises

❌ The voice recognition system

---
Detailed description
Mondly has been used by over 90 million people worldwide, with very good ratings:

➡ Very good ratings in the App Store and Google Play

➡ "Germany's Best Online Portal 2022" by DISQ

➡ Awarded with the title Facebook "App of the Year" for EMEA

➡ Named "Editor's Choice" and "Best of 2022" on Google Play

➡ Best new Apple app.
Learning a foreign languages ​​in an innovative way

It is a language learning application of Romanian origin allowing you to learn more than 30 languages ​​through free and paid courses.

These languages ​​include: English, French, German, Spanish, Turkish, Norwegian, Korean, Japanese, Chinese, Russian, Arabic, Persian, Portuguese , Dutch, Latin and many more.

It also offers virtual reality (VR) and augmented reality (AR) courses. It keeps improving and adding new languages.

It offers over 300 lessons organized into everyday life themes - family, weather, travel, sports, food, etc., over 50 real and simulated conversations to get you expressing yourself quickly, over 2100 daily lessons to consolidate your knowledge, weekly quizzes and monthly challenges that will help you create a fun learning routine.

The learning process follows certain rules:
➡ It is necessary to subscribe to a subscription in order to have access to all the courses on the Mondly application.

➡ The application offers daily lessons, as well as weekly and monthly quizzes allowing you to evaluate your learning progress. This allows you to get the most out of your subscription.

➡ It is possible to choose which courses to follow, and even to navigate between the courses of the different Mondly learning services.

➡ Whichever language you choose from the 33 languages ​​offered, the Mondly application provides you with a good number of communication simulations. This allows you to improve the grammatical structure of your sentences, to enrich your vocabulary and thus your communication skills.

➡ It is possible to access the learning courses from the online platform (accessible from a desktop computer, smartphone and others) and the mobile application.
Different subscription prices

A paid subscription costs 9.99 USD per month or 47.99 USD for one year for one language.
Unlike many learning platforms, Mondly is one of the most affordable to anyone looking to learn a new language.
Apart from the first basic courses which are mostly free, the rest of the courses are subject to a premium subscription and divided into various groups.

Start using Mondly now!
If you use our affiliate link below to subscribe to
Mondly
, we earn a commission at no additional cost to you. Besides, thanks to this financial support, it will help us to develop our site and continue to offer you quality free content.
Start using Mondly
Reviews
SwissalpS

February 2022




I have been using it for 11 languages. It's mostly usefull with those that I'm just starting out and it shines with those that don't use latin based script. Users can toggle between native and latinized script making it easier to start out with a language especialy if you don't want to concentrate on being able to read and write it.

Best feature: Daily exercises that have the same content for every language. Takes between 2-7 minutes per daily lesson, depending on how much you already know of a language.

The recordings are crisp and clear.

Fun augmentation to teacher or other course.

English
vincent

February 2022




thanks for this new review. keep it up
February 2022




I use Mondly Spanish lessons 3rd year in the row and I love it Well recommend to every one!

English