Prices
BASIC FORMULA
339 € until 5/December/2019, then 359 € until 5/February/2020, then 379 €.
The price includes:
- Accommodation 8 days / 7 nights,
- 6 language conversation workshops,
- 7 parties (mix Latino or general music or walk in town),
- unlimited swimming pool (during opening hours),
- Tourism tax,
- Bed linen.
OPTIONS
To this basic formula, you can add many options or plans:
- Dance Workshop (15 hours spread over the week): 40 € per week,
- Packed lunch (full board): from 62 € to 98 € per week, according to your plan,
- Walks in snowshoes: from 22 to 26 € per day, according to your plan (about 2 hours and 20 minutes per walk),
- Ski rental: from 50 to 110 €, according to your plan,
- Skipass: from 195 to 235 €, according to your plan,
- Ski classes: 165 € for 5 half-days,
- Accommodation options: from 0 to 400 €, according to your plan.
All rates are visible at the bottom of the page.
Discounts
YOU ARE 30 YEARS OLD OR LESS?
Get 50 € DISCOUNT with the code HAPPY30.
This code has to be used during registration (no refund if you forgot to put your code during registration).
It is valid on presentation of your identity card justifying that you are less than 30 years old when you arrive at the stay.

POLYGLOT CLUB
Get 20 € discount with your Polyglot Club Subscriber's Badge: If you have already purchased your Subscriber's Badge, send an SMS to the following number: 06.80.81.19.89 (Pat) with your name. You will receive a PIN to take advantage of our special *Subscriber's Discount*. All information about the Polyglot Club Subscriber's Badge.
ACCOMMODATION
Your ski resort
You will be staying at La Plagne, which is one of the most popular ski resorts (ranked 4th) in the world with more than 2.5 million visitors each year (more information).
La Plagne resort is located in France, in the famous region of Savoie, near Geneva (Switzerland) and Turin (Italy).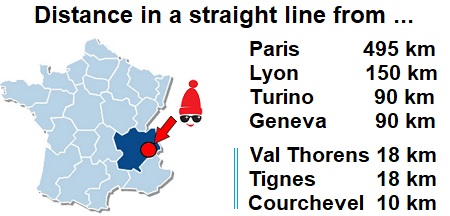 Residence
You will be staying in apartments Maeva (group Pierre et Vacances) located at 1930 meters in altitude, in the center of La Plagne (Bellecôte).
At the foot of the residence, you will find many shops: supermarket, cinema, swimming pool, nightclubs, bars, restaurants, sauna, bakery, ...
View of the slopes from your apartment (click to enlarge) :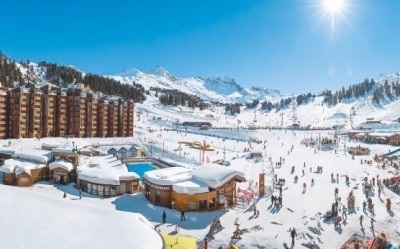 reviews from TripAdvisor about your residence (click here) :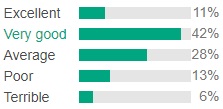 Apartments
All apartments are identical and include 5 beds:
– 2 beds in a room
– 3 beds in the living room
View the plan of an apartment by clicking on the image :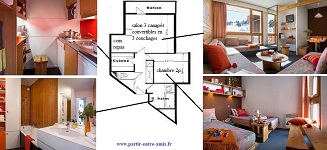 The basic formula SKI LATINO STARS corresponds to an accommodation in an apartment for 5 persons, and with your bed in the living room with 2 other persons. Many options allow you to enjoy more comfort:
Distribution of accommodation
We organize the distribution of apartments by age group. Generally, there is no more than a 10-year gap between the youngest and oldest person in a given dwelling.
We make sure that there is a mixture (both genders) in the apartments (not in the room and not in the living room). On the registration form, you can tell us that you do not want to integrate genders in your apartment.
If you are a group of friends, you can indicate on the registration form that you wish to be hosted together.
Facilities of the Residence
Outdoor swimming pool heated to 30 degrees Celcius (free) Swimming pool Photos.
Meals
You can choose your food plan: with or without Food Box.
Food-Box
Food Boxes are to be prepared by yourself within your apartment.
We offer 3 ranges of Food Boxes :
- Details of the « SIMPLE » (62 €)
- Details of the « VEGETARIAN PREMIUM » (88 €)
- Details of the « PREMIUM SAVOIE » (98 €)

You have the option of not taking a Food Box. You can then shop at the resort's supermarket (located on the ground floor of your residence) or go to one of the resort's many restaurants.
Note also that we organize 3 meals during the week (Monday, Wednesday and Friday) in the main room of the residence: each brings something to eat or to drink (cheese, pizza, …) and we share!

Restaurant
If you wish to have a meal in the restaurant, we suggest that you meet in the evening at the restaurant "Le Mouflon" located 50 meters from your residence. Reviews of "Le Mouflon".
SKIING - SNOWSHOEING
SKIING
Meeting point every day at 09:30 and at 14:30 at the foot of the slopes to ski together. We will organize 6 groups on the 1st day:
1. Beginner,
2. False beginner,
3. Intermediate with "La Plagne" Skipass,
4. Intermediate with "Paradiski" Skipass,
5. Advanced with "La Plagne" Skipass,
6. Advanced with "Paradiski" Skipass,
Possibility of taking lessons with the monitors: half day from 30 € or 5 days course for 165 €.
SNOWSHOEING
From 21 € to 26 € the ride of 2 hours and 30 minutes (Cf ticketing)
Discover breathtaking landscapes in a friendly atmosphere.
Each route is different.
You will be accompanied by a qualified mountain guide.
Equipment provided. No physical skills required (if you can climb 3 floors without stopping, it's good).
Groups of up to 14 people.
SKIPASS
On our ticketing, we offer 2 types of Skipass ("6 days La Plagne" and "6 days Paradiski").
If you want different packages, you can buy your package at the station (50 meters from your residence).
Here are some rates:
– Skipass 4 hours "La Plagne" = 43 €
– Skipass 1 day "La Plagne" = 53 €

All package rates here.
IMPORTANT
– If you ski less than 4 days, it is better to take 1 day packages (52 €) than to buy our package "6 days La Plagne".
– the "6 days La Plagne" Skipass includes 1 day on ""Paradiski" (= Les Arcs)" resort (the day of your choice).
Dance (option)
During the week, you can take Latin dance classes (+40 € schedule 2019 for information: Planning 2019)
- Cyméone
- Herminio et Carole
- Luis Costa
- Sing et Mylène
- Will MP

Couples dance classes:
- When ? Monday to Saturday, from 5PM to 7:30PM.
- Price for the week: 40 € if you subscribe to the BASIC FORMULA, else 99 €.
- Levels: 3 levels.
- Partner: No partner assigned during the stay. Everyone will dance with everyone.
Solo Dance Classes:
- When? Monday to Saturday, from 10AM to 12PM.
- Price for the week: 40 €
- Level required: « all levels ».
- Dances: street jazz, afro, choreography, …
Dance parties:
- When? Sunday to Saturday, from 10PM to 0:45AM .
- Price: included in the BASIC FORMULA.
TRANSPORTATION (NOT INCLUDED)
By plane
The resort can be easily accessed from the airports of Geneva (3 hours, 93 miles / 149 km), Lyon (3 hours, 122 miles / 196 km) and Chambéry (2 hours, 57 miles / 92 km).
- Chambery Airport 119 km / 1 hour 35 minutes
- Geneva International Airport 197 km / 2 hours 15 minutes
- Grenoble Isere Airport 192 km / 2 hours 10 minutes
- Lyon St. Exupery Airport 196 km / 2 hours 15 minutes
You can also take plane to Paris and take the car, train or bus (see below).
By car
From Paris, you will need about 6 hours 30 minutes and a budget of about 120 € (gasoline and toll). Plan your itinerary with the Mappy.fr website.
Carpooling
You can organize a carpool thanks to the BlaBlaCar website. You can expect an average of 35 € per passenger for a trip from Paris.
You can also organize your carpool on our shared sheet.
Parking
Free parking:
- 1 free parking is located in front of the residence (80 places)
- 1 free parking is located at "Plagne 1800". Free shuttle from the parking lot to your residence every 15 minutes

There is a paid parking in front of the residence. Payment on the spot. Add about 40 € per week. Check the Parking information page.
By train (Train à Grande Vitesse, TGV)
- TGV ride from Paris: 4 hours and 30 minutes
- Bus ride from the station to the resort: 30 minutes
Book your train ticket for Aime La Plagne station.
Take the bus at the exit of the TGV train station.
Departure station: Aime,
Arrival station: Plagne Villages.
By Bus
The FLIXBUS company has just opened a bus line "Paris-La Plagne" at 49,50 € each way:

DO YOU HAVE QUESTIONS?
HOW TO PAY?
-Credit card payment: application fee offered
-Pay with one check: 20 € application fee
-Pay in 3 checks or holiday vouchers: 25 € application fee

OUR TRAVEL AGENCY PARTNER
Partir entre Amis is the French specialist of convivial stays. Every year they welcome more than 2000 participants during the holidays they organize.