index.php
From Polyglot Club WIKI
---
Latest revision as of 08:02, 9 October 2019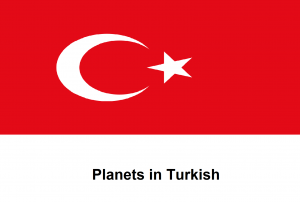 .
.
Hello everybody,
In today's lesson you will learn some useful vocabulary about ¨PLANETS¨ in Turkish.
Feel free to edit this page by adding new words and expressions!
Good learning! :)
.
.
ENGLISH
PRONUNCIATION ENGLISH
TURKISH
PRONUNCIATION BRAZILIAN

PORTUGUESE

BRAZILIAN

PORTUGUESE

THE MERCURY
mehr kewr
MERKÜR
mer kyr
O MERCÚRIO
THE VENUS
veh news
VENÜS
ve nys
O VENUS
THE EARTH
dew nyah
DÜNYA
dy niá
A TERRA
THE MARS
mahrs
MARS
mars
O MARTE
THE JUPITER
zhyh pih tehr
JÜPİTER
jypitér
O JUPITER
THE SATURN
sah tewrn
SATÜRN
satyrn
O SATURNO
THE URANUS
ou rah news
URANÜS
uranys
O URANO
THE NEPTUNE
nehp tewn
NEPTÜN
neptyn
O NETUNO
THE CERES
jeh rehs
CERES
djerés
O CERES
THE PLUTO
plew tohn
PLÜTON
plyton
O PLUTO
THE HAUMEA
How meh ah
HAUMEA
Hauméa
THE HAUMEA
THE MAKEMAKE
make make
MAKEMAKE
mêik mêik
O MAKEMAKE
THE ERIS
eh rihs
ERİS
erís
O ERIS
Merkür - Mercury
Venüs - Venus
Dünya - Earth
Mars - Mars
Jüpiter - Jupiter 
Satürn - Saturn
Uranüs - Uranus
Neptün - Neptune
Cüce gezegenler - Dwarf planets[edit | edit source]
Ceres - Ceres
Plüton - Pluto 
Haumea - Haumea
Makemake - Makemake
Eris - Eris
.