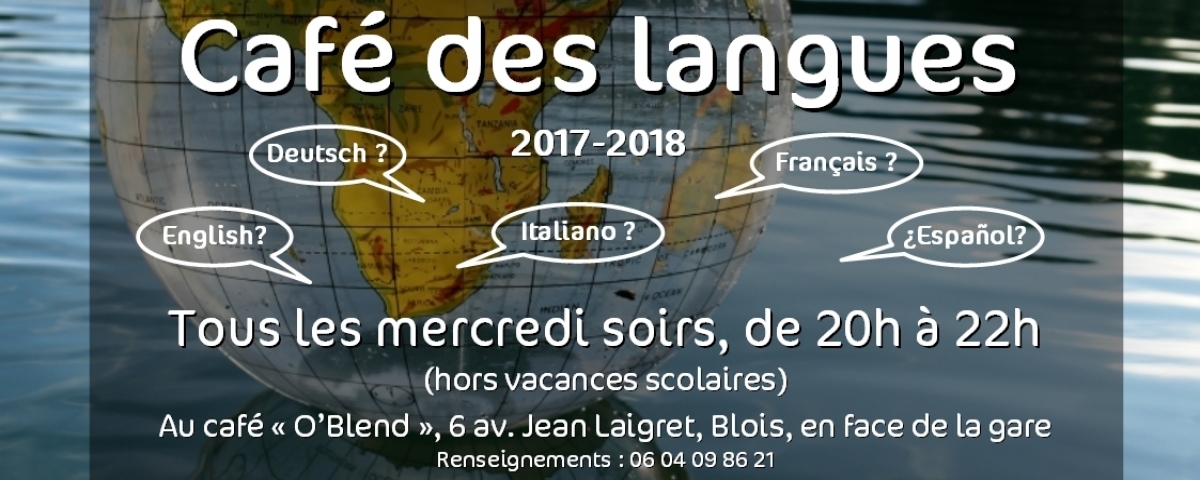 Date: May 31, 2017
Time: 20:00
Address: Bar Vinomania, 12 rue du poids du roi, Blois, France
Number of Attendees expected: 15
MAX number of attendees: 50
Phone number: 0604098621
Français souhaitant parler une langue étrangère...
Étrangers souhaitant améliorer leur français...
… tous sont les bienvenus au...
Café des Langues
Nous espérons qu'il sera possible de pratiquer plusieurs langues étrangères, mais ça dépendra de ceux qui viendront aux soirées.  Déjà on peut garantir le français et l'anglais.  Après, c'est à vous de jouer...
NB : Les soirées "café des langues" sont des soirées de discussion, pas des cours de langue.  La formule ne convient pas bien aux tout débutants qui ne savent pas encore tenir une conversation. 
On ne se réunit pas pendant les vacances scolaires
Comments
Pedro41

Oui, mercredi prochain sera notre 7ème rencontre.  Nous continuons toutes les mercredi soirs hors vacances scolaires. 

Les dernières fois, on a été une douzaine.  On a parlé de l'anglais, du français, de l'espagnol et de l'italien (ces derniers pas toutes les semaines).

Si vous pouvez gardez notre annonce active, on sera content. 

Merci.
| | | |
| --- | --- | --- |
| | | vincent Très bien, merci pour l'information Have fun ! |
vincent

Hello, is this event still take place every week ? thanks for the update, Vincent, admin