---
Polyglot Berlin Meeting!
Date Nov 25, 2014 @ 20:00
POLYGLOT CLUB Meeting in Berlin!
Next meeting: November 18, beginning 8 pm, open end
Address: Kant Café
Kantstr. 135, 10625 Berlin
(close to Savignyplatz, Ernst Reuter Platz, Wilmersdorfer Str.)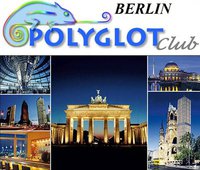 Join us to make the polyglot experience even more exciting, multi-faceted, multi-lingual, -cultural, intellectually inspiring and interesting
Check here for updates!
Join us for a multilingual evening, interesting people and lots of fun with Polyglot!
Comments
Alisa_Zingerman

Hi! Is there no meeting tomorrow (19th), or it's just that the site is not updated? Because I recommended it to a friend who wanted to come by, and me too, actually...
Mar 18, 2013 @ 15:49
---