Polyglot Berlin Meeting!
Date May 03, 2016 @ 20:00
POLYGLOT CLUB Meeting in Berlin!
Meeting EVERY Tuesday, beginning 8 pm, open end
Address: Kant Café
Kantstr. 135, 10625 Berlin
(close to Savignyplatz, Ernst Reuter Platz, Wilmersdorfer Str.)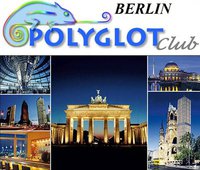 Join us to make the polyglot experience even more exciting, multi-faceted, multi-lingual, -cultural, intellectually inspiring and interesting
Check here for updates!
Join us for a multilingual evening, interesting people and lots of fun with Polyglot!
Comments
Marie-Michele

Hello, I'll be in Berlin for the first time next week (Tuesday, May 3rd). Will there be a "Polyglotclub" sign or something in the café (just to be sure I am at the right place)? And what is the price for this event? See you soon!
Teutonius

J'ai mis quelques choses dont on a parlé la derière fois pour Karol en ligne dans notre groupe FB, si cela vous intéresse ? Ou si vous voulez rajouter quelque chose d'important que je n'ai pas comprise ou que j'ai oubliée ? A+