Polyglot Berlin Meeting!
Date Aug 02, 2016 @ 20:00
POLYGLOT CLUB Meeting in Berlin!
Meeting EVERY Tuesday, beginning 8 pm, open end
Address: Café Shila
Please check address updates on Facebook, this is more secure
(Polyglot Club Berlin)
Straße des 17. Juni 136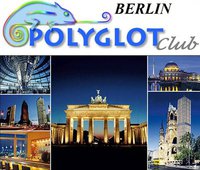 Join us to make the polyglot experience even more exciting, multi-faceted, multi-lingual, -cultural, intellectually inspiring and interesting
Check here for updates!
Join us for a multilingual evening, interesting people and lots of fun with Polyglot!
Comments
Marie-Michele

Hello, I went to Kant Café tonight but there were no one there from PolyglotClub. The waitress told me that maybe the event changed of location. Is that true?