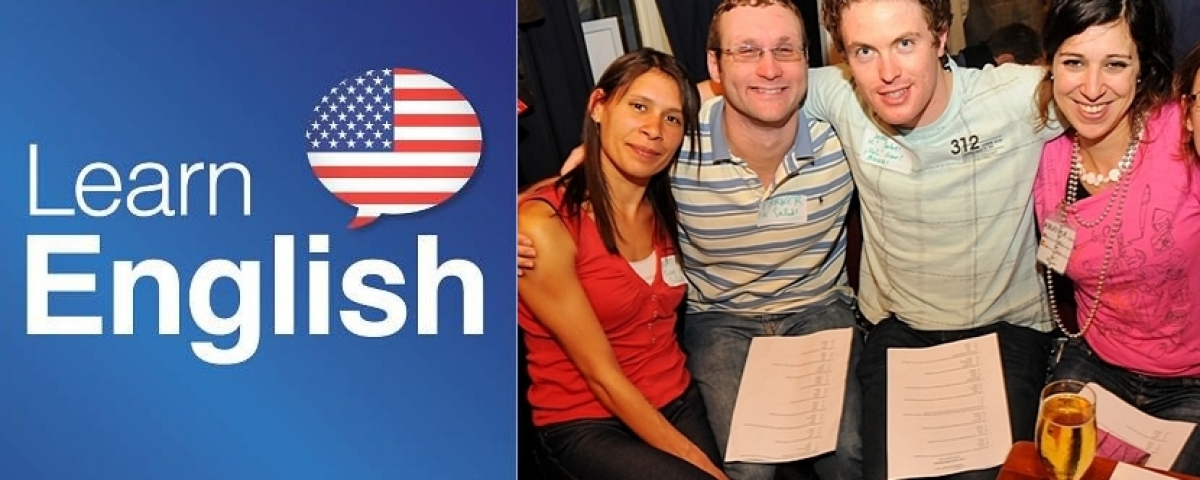 | | |
| --- | --- |
| | Cours de conversation ANGLAIS tous les mardis : Niveau: faux-débutant |
| | |
| --- | --- |
| | Sept 27, 2016 @ 19:00 |
| | DENFERT Café: 58 bd Saint-Jacques 75014 Paris |
| | 6 € / 10 € |
| | Number of Attendees expected: 15 |
| | MAX number of attendees: 30 |
COURS d'ANGLAIS
NIVEAU FAUX-DÉBUTANT
NB : Si vous ne pouvez plus venir MERCI de vous DES-enregistrer cliquez ICI
Méthode approuvée

Label Européen des Langues
"These lessons will offer you a perfect mix. Each week we will look at English Vocabulary and/or Grammar in a relaxed and fun way."
SVP, ARRIVEZ A L'HEURE !
My name is Steph and I am an English instructor from the USA. I have just moved to Paris, France and I am very excited to live in this beautiful city.

I completed my Master's degree in Teaching English to Speakers of Other Languages (TESOL) and have teaching experience in the United States, Hong Kong, and Bolivia. I love teaching as much as I love learning.

I especially enjoy discovering new cultures and sharing languages with people from all over the world; which makes the Polyglot Club a perfect fit for me!

I'm excited to get to know each of my students, practice English, and have a great time learning together!
STRUCTURE
Leçon pour MARDI 27 septembre 2016:
I. Welcome/warm up activity (10 minutes or less): "Hello, my name is..." and 3 sentences about yourself (including sentence starters),
II. Oral practice by introducing yourself to 2 partners or introducing yourself to the class.

III. Grammar Lesson (~7-10 minutes): Nouns - Singular and Plural, sort by color worksheet

IV. Vowel Sound Practice (~7-10 minutes): Long and Short A introduction with whole group sorting activity

V. Vocabulary with Long and Short A words (15 minutes): Group read aloud picture/word cards, partner sort game

VI. Game (20 minutes): BINGO with vocab words and singular and plural nouns
CONDITIONS
Niveau: faux-débutant (CECRL: A2).
ATTENTION:
- si votre niveau est supérieur à "faux-débutant", merci de vous inscrire au cours du JEUDI (intermédiaire à avancé)
- si votre niveau est inférieur à "faux-débutant", merci de vous inscrire au cours de SAMEDI (débutant)
- Minimum: 6 participants (sinon: annulé)
- Maximum: 30 participants
NB : Les inscriptions pour la semaine suivante ne sont possibles qu'à partir du mardi minuit.
Pour faciliter votre apprentissage, n'oubliez pas d'apporter stylo, papier, dictionnaire et toutes les ressources dont vous pourrez avoir besoin.
Mardi à 19h, vous devrez vous acquitter du paiement de frais de participation : merci d'éviter les gros billets car nous n'avons pas beaucoup de monnaie.
IMMEDIATEMENT après ce cours d'anglais, nous commencerons notre rencontre hebdomadaire TOUTES langues. Vous pouvez donc rester et continuer de pratiquer l'anglais et TOUTES langues avec des participants du monde entier!
TARIFS
- ADHERENTS: 6€ / AUTRES: 10€
- ATTENTION: pour bénéficier du tarif "ADHERENTS: 6€", il faut PAYER votre ADHESION annuelle. Informations sur l' ADHESION à Polyglot Club
Vous devez aussi acheter une boisson (pour rémunérer les services du bar qui nous accueille : consultez la "Drink Policy").
QUAND? Tous les MARDIS de 19h à 20h
58 bd Saint-Jacques
75014 Paris
Métro: Denfert-Rochereau (lignes 4, 6, RER B)
---
---
Comments
StephCouitt

La classe de demain comprendra la pratique de voyelle, revue de nom singulier et pluriel, et un jeu de BINGO pour le plaisir! Rendez-vous tous demain!
| | | |
| --- | --- | --- |
| | | vincent c'est super !! merci Steph Vincent |
pat

Thèmes pour MARDI 13 septembre 2016:

- 9/11: The September 11 attacks in New York

- Le present perfect en BE + V-ing