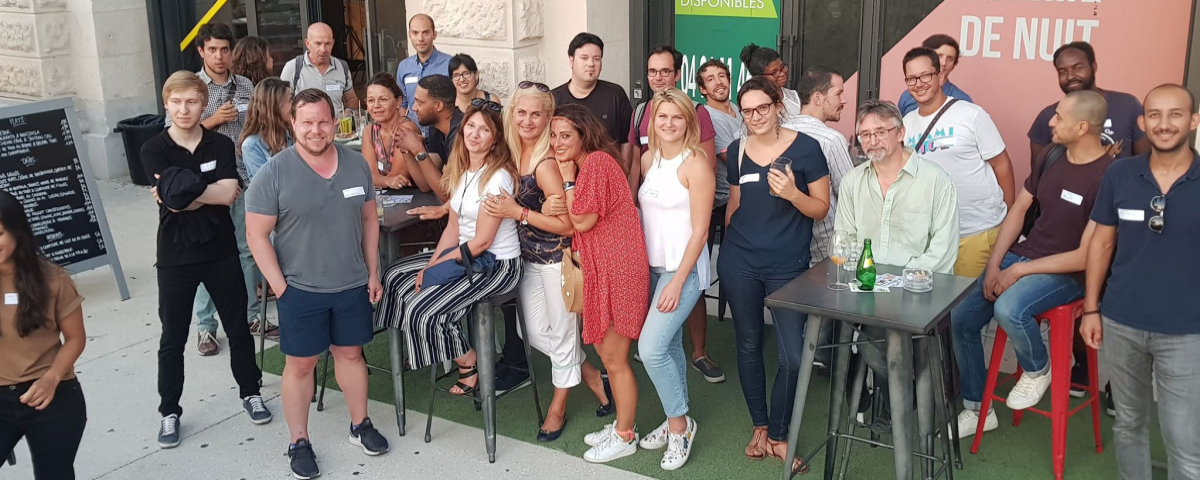 | | |
| --- | --- |
| | International Language Party Every SATURDAY in Paris |
| | |
| --- | --- |
| | Oct 01, 2016 @ 20:00 |
| | DENFERT Café 58, bd St Jacques 75014 Paris |
| | Number of Attendees expected: 120 |
| | 06 80 81 19 89 (SMS) |
Just REGISTER HERE to participate!
About 150 participants (the event is published on several websites)

Merci à France 2 pour son reportage diffusé lors du journal de 20h du 29 avril 2016.
FREE entrance
Buy at least one DRINK!
The 'Every Saturday Meeting' is dedicated to conversations and language exchange in *All Languages* (French, English, Spanish, Russian, German, Italian, Chinese, Japanese, Arabic, Portuguese, Polish... and ANY language)
.
You will be able to practice your favorite languages with participants from all over the world. When you enter the bar, we will give you a name tag with your name and languages you are able to speak.
EVERYBODY in the bar is here for the Polyglot Club meeting.
Just talk to anybody in the café!
Please, buy at least 1 DRINK :
Check out the
DRINK policy
. For every drink you order, the bar will pay 1.5€ to Polyglot Club! To get a discount of 1.5 euro per drink, you can also subscribe for the annual Polyglot Club membership.
For a list of ALL the privileges offered with the Polyglot Club SUBSCRIPTION,
click HERE
. With this financial support, Polyglot Club can organize more events!
Polyglot Club encourages you to avoid speaking your native language

with another member if you share the same mother tongue. For example, don't speak French with French people if you are French...
When?
Every Saturday from 8 pm to 1 am (20h00 to 01h00)
Where?
DENFERT Café 58, bd St Jacques 75014 Paris : Métro: Denfert (lignes 4, 6) / RER B
international, expatriates, expat, franglish, yep, to be erasmus, students, expats, pub crawling, cs, onvasortir, internations, couchsurfing, ovs, meetup, learn English Spanish, pub, bar
---
---
pat

May 20, 2009 @ 19:16
Comments
| | | |
| --- | --- | --- |
| | | vincent It starts in the evening and ends in the morning Every Saturday from 8 pm to 1 am (20h00 to 01h00) |