Language/Portuguese/Vocabulary/At-a-Party
Jump to navigation
Jump to search
---
Portuguese Vocabulary - Have a Party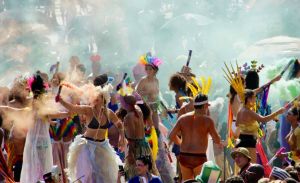 | English | Portuguese |
| --- | --- |
| Bachelor party | Festa de despedida de solteiro |
| Bathroom | Banheiro |
| Beer | Cerveja |
| Beverage | Bebida |
| Birthday party | Festa de aniversário |
| Boat party | Festa no barco |
| Boyfriend | Namorado |
| Brazilian Caipirinha | Caipirinha |
| Costume party | Festa à fantasia |
| Decoration | Decoração |
| Drinks | Drinks |
| Entrance | Entrada |
| Exit | Saída |
| Farewell party | Festa de despedida |
| Fashionable party | Festa chique |
| Friends | Amigos |
| Girlfriend | Namorada |
| Guests | Convidados |
| Hangover | Ressaca |
| Happy birthday | Feliz aniversário |
| Happy hour | Happy hour |
| Hen party | Festa de despedida de solteira |
| Invitation | Convite |
| Man | Homem |
| Meet people | Conhecer pessoas |
| Music | Música |
| Nightclub | Boate |
| Open bar | Bebida liberada |
| Party | Festa |
| Snacks | Petiscos |
| Surprise party | Festa surpresa |
| Ticket | Ingresso |
| To dance | Dançar |
| To drink | Beber |
| To flirt | Flertar |
| To hang out | Sair |
| To have fun | Se divertir |
| To hug | Abraçar |
| To kiss | Beijar |
| To turn away | Barrar |
| Wild party | Festa de arromba |
| Woman | Mulher |
Culture: Parties in Brazil and Porgtugal
[
edit
|
edit source
]
What is the Rio Carnival in Brazil?
[
edit
|
edit source
]
The greatest party in the world is certainly the Rio Carnival. It takes place from its launch which takes place on Friday until its closing which takes place on Ash Wednesday. Carnival time is a celebration of joy, peace, and fellowship. To fully experience the Rio Carnival, nothing beats entry to the Sambadrome or access to the most popular shows, which generally require a reservation ticket. Get ready to take part in the most electric festivities that reach their climax during the Parade of Champions at the Sambadrome.
Where are the best places to party in Portugal?
[
edit
|
edit source
]
The best places to party in Portugal are the clubs and bars of Lisbon, Porto and Albufeira. Lisbon's clubs offer a party atmosphere with live music, DJ sets and cocktail bars. Porto is a bustling city with an excellent selection of bars and clubs, while Albufeira is known for its lively beach parties.
European Portuguese | Small Talk (16 phrases you NEED!)
[
edit
|
edit source
]
Birthday Vocabulary in Brazilian Portuguese
[
edit
|
edit source
]