index.php
From Polyglot Club WIKI
(Tags:

Mobile edit

,

Mobile web edit

)

Line 121:
Line 121:
 

|}

 

|}

 
 
−

The rabbit is famous as a pet in Japan, and people (especially girls ;-) ) are shocked when I say that it is a famous and tasty dish in France. In Japan, like in a lot places in the world there atre animals defenders who claim that cafe are inhumans treatments to animals and ask for release,There is a island with a massive rabbit free population. Sometime called Usagi-shima : Rabbit Island.Japanese sometimes use asian astrology. Some caracters and pronounciations are different from the common animal. In astrology Dragon becomes Tatsu. Both of caracter an pronounciation change. Tiger gets only his caracter changed.

+

The rabbit is famous as a pet in Japan, and people are shocked when I say that it is a famous and tasty dish in France. In Japan, like in a lot places in the world there atre animals defenders who claim that cafe are inhumans treatments to animals and ask for release,There is a island with a massive rabbit free population. Sometime called Usagi-shima : Rabbit Island.Japanese sometimes use asian astrology. Some caracters and pronounciations are different from the common animal. In astrology Dragon becomes Tatsu. Both of caracter an pronounciation change. Tiger gets only his caracter changed.

 
 
 

== Examples ==

 

== Examples ==
---
Revision as of 08:31, 21 June 2017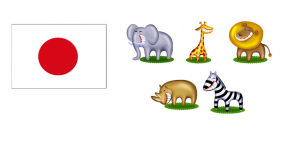 Animals in Japan are popular. Unfortunately due to social way of life, not so much people get domestic animal even if the love them to much. Indeed, people work a lot, they have to leave home early and come back late and then, usually apartment are tiny. This does not mean there is no animal in none of shelters but it is not common. However, japanese get a concept with animals cafe. In Tokyo, for example you can enjoy your time in a "cat cafe" or "dog cafe" and then in "owl cafe".
It is a way to enjoy animals and give them some unencumbered love. You just come to the cafe, pay for a period from 10 minutes to one hour (depends of the cafe) and enjoy with animals. 
At owl cafe for example, you come for one hour, pay 1400 yens (about 12 euro / 15 dollars) and you can have a drink a last. During the time you are there, you can take pictures with owls, stroke them on the head and so on, but you must be quiet to don't frighten them.The Cafe is called "Ikefukuro". As it is located in Ikebukuro district it is a word game.
*fukuro = bag or owl, depends of the context.the caracter of bukuro In Ikebukuro could be read fukuro when it is used alone.
English

name

Japanese

name

Animals
Doubutsu 動物
Dog
Inu 犬
Cat
Neko 猫
Rabbit
Usagi 兎
Elephant
Zou 象
Bear
Kuma 熊
Panda
Panda パンダ
Hippo
Kaba 河馬
Pig
Buta 豚
Rat
Nezumi 鼠
Tiger
Tora 虎
Wolf
Ookami 狼
Lion
Shishi 獅子
Girafe
Kirin 麒麟
Rhino
Sai 犀
Deer
Shika 鹿
Monkey
Saru 猿
Gorilla
Gorira ゴリラ
Bird
Tori 鳥
Falcon
Taka 鷹
Eagle
Washi 鷲
Swan
Hakuchou 白鳥
Owl
Fukuro 梟
Dragonfly
Tonbo 蜻蛉
Firefly
Hotaru 蛍
Bee
Hachi 蜂
Dragon
Ryuu 竜
Grasshopper
Batta バッタ
Snake
Hebi 蛇
Fish
Sakana 魚
Crab
Kani 蟹
Shrimp
Ebi 海老
Dolphin
Iruka 海豚
Shark
Same 鮫
Whale
Kujira 鯨
The rabbit is famous as a pet in Japan, and people are shocked when I say that it is a famous and tasty dish in France. In Japan, like in a lot places in the world there atre animals defenders who claim that cafe are inhumans treatments to animals and ask for release,There is a island with a massive rabbit free population. Sometime called Usagi-shima : Rabbit Island.Japanese sometimes use asian astrology. Some caracters and pronounciations are different from the common animal. In astrology Dragon becomes Tatsu. Both of caracter an pronounciation change. Tiger gets only his caracter changed.
Examples
- In the animated serie Dragon Ball, the name of the Dragon is Shen Long, making with the two form of chinese dragons names.
- There is a Super Hero kids show named Kiba Ookami Garo. The main caracter is a magic wolf.
- The 2016 Super Sentai Serie of 2016 name is : Doubutsu Sentai ZyuOhger.
- A famous animation film from Studio Ghibli, making by Hayao Miyazaki is called "Kurenai no Buta" in Japan, Porco Rosso in the rest of the world.
- Another Studio Ghibli famous animation movie, and probably the saddest is "Hotaru no Haka" (Grave of the fireflies) based on a semi-autobiographic novel.
- Neko no Ongaeshi (The Cats Kingdom) is also a Ghibli movie.
- The Street Fighter playable character Ryu is named according to his special ability the Dragon Punch.
- A famous monster has his name made by a fusion of two words like Pokemon (Pocket Monsters). This creature is Godzilla. It is make with Gorilla and Kujira. The Gorilla and the Whale.