index.php
From Polyglot Club WIKI
The printable version is no longer supported and may have rendering errors. Please update your browser bookmarks and please use the default browser print function instead.
---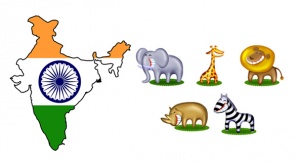 b
This lesson is for those who want to learn Hindi language.
You will find in the list below the names of the animals in English and in Hindi with the pronunciation.
I hope this helps. Thank you!

जंगली जानवरों के नाम Name Of Wild Animals 1. शेर (Lion) 2. चीता (Cheetah) 3. बाघ (Tiger) 4. भालू (Bear) 5. भेड़िया (Wolf) 6. सियार (Jackal) 7. लोमड़ी (Fox) 8. तेंदुआ (Leopard) 9. हिरण (Deer) 10. हाथी (Elephant) 11. गैंडा (Rhinoceros) 12. खरगोश (Rabbit) 13. बंदर (Monkey) 14. कंगारू (Kangaroo) 15. जिराफ (Giraffe) 16. गोरिल्ला (Gorilla) 17. सांप (Snake) 18. ज़ेब्रा (Zebra)
ANIMAL = जानवर
| Hindi | English | Pronunciation |
| --- | --- | --- |
| ऊँट | a camel | Oonth |
| कछुआ | a tortoise | Kachuaa |
| कीट | a worm | keet |
| कीड़ा-मकोड़ा | an insect | keeda-makoda |
| कुत्ता | a dog | kuttaa |
| खरगोश | a rabbit | khargosh |
| घोंघा | a snail | ghongha |
| घोड़ा | a horse | ghodaa |
| चूहा | a mouse | chuhaa |
| जंगली | wild | jungali/jangali |
| जिराफ | a giraffe | jiraaf |
| डौलफिन | a dolphin | dolphin |
| तितली | a butterfly | titli |
| थूथन | a snout | thoothan |
| धारी | a stripe | dhaari |
| नर | a male | narr |
| पंख | a wing | pankh |
| पालतू | domestic | paaltu |
| पाला हुआ | a pet | paala hua |
| पिल्ला | a puppy | pillaa |
| बछड़ा | a calf | bhachdaa |
| बत्तख | a duck | batakh |
| बबूला | a penguin | babulaa |
| बाघ | a tiger | bagh |
| बिल्ली | a cat | billi |
| भौंकना | to bark | bhoknaa |
| मक्खी | a fly | makhi |
| मकड़ी | a spider | makadi |
| मगरमच्छ | a crocodile | magarmach |
| मच्छर | a mosquito | machhar |
| मछ्ली | a fish | machli |
| मधुमक्खी | a bee | madhumakhi |
| मांसाहारी पशु | a carnivore | maansahaari pashu |
| मादा | a female | maada |
| मुर्गी | a hen | murgi |
| मेंढक | a frog | medhak |
| मेमना | to bleat | memnaa |
| रंभाना | to moo | raanbhana |
| राजहंस | a swan | rajhans |
| रेंगने वाला | a reptile | raingane wala |
| लकीरों वाला | striped | lakiro wala |
| शाकाहारी | a herbivore | shakaahari |
| शार्क मछली | a shark | shark machli |
| सांप | a snake | saaap |
| स्तनपायी | a mammal | satanpaayi |
| हंस | a goose | hans |
| हाथी | an elephant | haathi |
| ज़ेबरा | a zebra | zebra |
Contributors
---
Create a new Lesson