Turkmen Vocabulary: Basic Turkmen Phrases
From Polyglot Club WIKI
---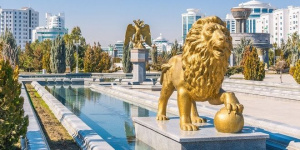 Salam Polyglots 😀
The Turkmen language is spoken by the Turkmens in Central Asia and it's the official language of Turkmenistan.
In this lesson, you will find some important survival phrases to know if you are planning a trip there.
If you are from Turkmenistan and you can provide recordings, you can help improve this lesson.
Follow the steps here: https://polyglotclub.com/wiki/Help/How-to-add-audio-files
| English | Turkmen | Audio |
| --- | --- | --- |
| Hello | Salam | |
| Do you speak English? | Siz iňlisçe gepleýärsiňizmi? | |
| Do you speak Turkmen? | Türkmençe bilýärmiň? | |
| Excuse me | Bagyşlaň | |
| Good morning | ertiriňiz haýyrly bolsun | |
| Good afternoon | gündiziňiz haýyrly bolsun | |
| Good bye | hoş | |
| Good evening | agşamyňyz haýyrly bolsun | |
| Good night | Gijäňiz rahat bolsun | |
| How | nähili | |
| How are you? | nähilisiň? | |
| How are you? | Nähilisiň? | |
| How much is this? | Näçeden? | |
| I am 25 years old | men 25 yaşymda. | |
| I am a student. | men talyp. | |
| I am fine and you? | gowy, özüň nähili? | |
| I am fine too. | menem gowy. | |
| I am from turkmenistan | men Türkmenistandan | |
| I am learning _____ | men_____ öwrenýärin | |
| I am learning turkmen | men türkmençe öwrenýärin. | |
| I'm from ____ | Men ____dan | |
| My name is ... | Meniň adym ... | |
| My name is __ and yours? | Meniň adym ___ seňki? | |
| My name is ___. | Meniň adym ___. | |
| Nice to meet you! | tanşanymyza şat! | |
| No | Ýok | |
| No, I do not speak Turkmen | ýok, Türkmençe bilemok | |
| Please say that again | Gaýtalaň | |
| Please speak more slowly | Haýal aýdyň | |
| Please write it down | Şuny ýazyň | |
| Pleased to meet you | Tanşanymyza şat | |
| Reply to 'How are you?' | Gowy, özüň nähili? | |
| Thank you | Sag boluň | |
| Welcome | Koş geldiniz | |
| What | näme | |
| What is your name? | adyň näme? | |
| Where are you from? | Sen nireden? | |
| Where's the toilet / bathroom? | Hajathana nirede? | |
| Yes, I speak turkmen | hawa, Türkmençe bilýän. | |
Contributors
---
Create a new Lesson