Language/Turkish/Vocabulary/Vegetables
Jump to navigation
Jump to search
---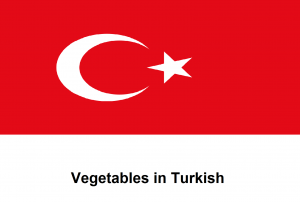 Hello everybody,
In today's lesson you will learn some useful vocabulary about ¨VEGETABLES¨ in Turkish.
Feel free to edit this page by adding new words and expressions !
Happy learning ! :)
Upon completion of this material, you might be intrigued by these associated topics: Nature, Feelings and Emotions, Time & Holidays.
ENGLISH
PRONUNCIATION

ENGLISH

TURKISH
PRONUNCIATION

BRAZILIAN

PORTUGUESE

BRAZILIAN

PORTUGUESE

THE ARTICHOKES
ehn gih nahr
ENGİNAR
enguinár
AS ALCACHOFRAS
THE ASPARAGUS
koush kohn mahz
KUŞKONMAZ
kuchkon maz
O ESPARGO
THE BEAN
fah sew lyeh
FASÜLYE
fasylié
O FEIJÃO
THE BEET
pahn jahr
PANCAR
pandjár
A BETERRABA
THE SUGAR BEET
sheh kehr pahn jah ruh
ŞEKER PANCARI
chekér pandjarâ
A BETERRABA SACARINA
THE BEETROOT
pahn jahr
PANCAR KÖKÜ
pandjár kêêky
A BETERRABA
THE BROCCOLI
broh koh lih
BROKOLİ
brokolí
O BROCÓLIS
THE BRUSSELS SPROUT
brewk sehl lah Hah nah suh
BRÜKSEL LAHANASI
bryksel laHanasâ
A COUVE DE BRUXELAS
THE CABBAGE
lah hah nah
LAHANA
laHaná
O REPOLHO
THE CAPSICUM
bih behr
BİBER
bibér
O CÁPSICO
THE CARROT
hah vooch
HAVUÇ
Havutch
A CENOURA
THE CAULIFLOWER
kahr nuh bah hahr
KARNIBAHAR
karnâbaHár
A COUVE-FLOR
THE CELERY
keh reh vihz
KEREVİZ
kerevíz
O AIPO
THE CHILLI PEPPER
ah juh bih behr
ACI BİBER
adjâ bibér
A PIMENTA CHILLI
THE CHOKO
chih koh lah tah
ÇİKOLATA
tchikolatá
O CHUCHU
THE COURGETTE
kah bahk
KABAK
kabák
A ABOBRINHA ITALIANA
THE CUCUMBER
sah lah tah luhk
SALATALIK
salatalâk
O PEPINO
THE EGGPLANT
pah tluh jahn
PATLICAN
patlâ djan
A BERINJELA
THE RADISH
toorp
TURP
turp
O RABANETE
THE LEEK
puh rah sah
PIRASA
pârasá
O ALHO-PORÓ
THE LETTUCE
mah rool
MARUL
marúL
O ALFACE
THE GREENS
yeh shihl lihk
YEŞİLLİK
iechillik
AS FOLHAS VERDES
THE MUSHROOM
mahn tahr
MANTAR
mantár
O COGUMELO
THE OKRA
bah myah
BAMYA
bamía
O QUIABO
THE PEA
beh zeh lyeh
BEZELYE
bezelíe
A ERVILHA
THE POTATO
pah tah tehs
PATATES
patatés
A BATATA
THE PUMPKIN
bahl kah baa uh
BALKABAĞI
baLkabaa â
A ABÓBORA
THE SPINACH
uhs pah nahk
ISPANAK
âspanák
O ESPINAFRE
THE SPRING ONION
tah zeh soh oh ahn
TAZE SOĞAN
tazé soo an
A CEBOLA DA PRIMAVERA
THE ONION
soh oh ahn
SOĞAN
soo an
A CEBOLA
THE CHICKPEA
noh hoot
NOHUT
noHút
O GRÃO DE BICO
THE CORN
muh suhr
MISIR
mâsâr
O MILHO
THE TOMATO
doh mah tehs
DOMATES
domatés
O TOMATE
THE TURNIP
shahl gahm
ŞALGAM
chaL gam
O NABO
THE WHEAT
boo dah ih
BUĞDAY
buu dái
O TRIGO
THE BARLEY
ahr pah
ARPA
arpá
A CEVADA
THE PURSLANE
seh mih zoh tou
SEMİZOTU
semizotú
A BELDROEGA
THE GARLIC
sah riuhm sahk
SARIMSAK
sarâmsák
O ALHO
THE LENTIL
mehr jih mehk
MERCİMEK
merdjimék
A LENTILHA
THE SWEET POTATO
yehr ehl mah suh
YER ELMASI
iér eLmasâ
A BATATA DOCE
Enginar - Artichokes
Kuşkonmaz - Asparagus
Fasülye - Bean
Pancar - Beet
Şeker Pancarı - Sugar Beet
Pancar Kökü - Beetroot
Brokoli - Broccoli
Brüksel Lahanası - Brussels sprout
Lahana - Cabbage
Biber - Capsicum
Havuç - Carrot
Karnıbahar - Cauliflower
Kereviz - Celery
Acı biber - Chilli pepper
Çikolota - Choko
Kabak - Courgette
Salatalık - Cucumber
Patlıcan - Eggplant
Turp - Radish
Pırasa -Leek
Marul -Lettuce
Yeşillik -Greens
Mantar - Mushroom
Bamya - Okra
Bezelye - Pea
Patates - Potato
Balkabağı - Pumpkin
Ispanak - Spinach
Taze Soğan - Spring onion
Soğan ( Kuru Soğan ) - Onion
Nohut - Chickpea
Mısır - Corn
Domates - Tomato
Şalgam - Turnip
Buğday - Wheat
Arpa - Barley
Semizotu - Purslane
Sarımsak - Garlic
Mercimek - Lentil
Yer elması - Sweet potato
Turkish Expressions Involving Vegetables
[
edit
|
edit source
]
[please, edit this part :)]
Contributors
---
Create a new Lesson