Turkish Grammar: «How to use ¨to be¨ with adjectives in Turkish»
From Polyglot Club WIKI
---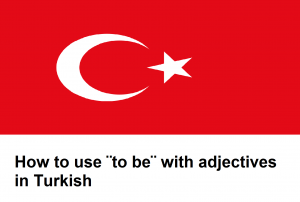 .
.
Hello everybody,
In today's lesson you will learn the VERB TO BE in Turkish.
Feel free to edit this page by adding new conjugations and expressions !
Good learning! :)
.
.
.
If the final letter is: ç,f,h,k,p,s,ş,t / the final letter ¨d¨ in the past changes into ¨t¨
Se a letra final for : ç,f,h,k,p,s,ş,t / a letra ¨d¨ no passado muda por ¨t¨
.
.
VERBS IN ENGLISH
VERB IN TURKISH
PRONUNCIATION ENGLISH
PAST TENSE
PRONUNCIATION BRAZILIAN

PORTUGUESE

BRAZILIAN PORTUGUESE
TO BE (WITH ADJECTIVE)
ohl mahk
OLMAK
oLmák
SER (COM ADJETIVO)
I WAS
-dihm

-duhm

-doom

-dewm

-DİM,

-DIM,

-DUM,

-DÜM

-dim

-dâm

-dum

-dym

EU ERA
YOU WERE
-dihn

-duhn

-doon

-dewn

-DİN,

-DIN,

-DUN,

-DÜN

-din

-dân

-dun

-dyn

VOCÊ ERA
HE WAS
-dih

-duh

-doo

-dew

-Dİ,

-DI,

-DU,

-DÜ

-di

-dâ

-du

-dy

ELE ERA
WE WERE
-dihk

-duhk

-dook

-dewk

-DİK,

-DIK,

-DUK,

-DÜK

-dik

-dâk

-duk

-dyk

NÓS ÉRAMOS
YOU WERE (PLURAL)
-dih nihz

-duh nuhz

-dou nooz

-dew newz

-DİNİZ,

-DINIZ,

-DUNUZ,

-DÜNÜZ

-diniz

-dânâz

-dunuz

-dynyz

VOCÊS ERAM
THEY WERE
-dih lehr

-duh lahr

-dou lahr

-dew lehr

-DİLER,

-DILAR,

-DULAR,

-DÜLER

-diler

-dâlar

-dular

-dyler

ELES ERAM
VERBS IN ENGLISH
VERB IN TURKISH
PRONUNCIATION ENGLISH
PRESENT TENSE
PRONUNCIATION BRAZILIAN

PORTUGUESE

BRAZILIAN PORTUGUESE
TO BE (WITH ADJECTIVE)
ohl mahk
OLMAK
oLmák
SER (COM ADJETIVO)
I AM
-ihm

-uhm

-oom

-ewm

-İM,

-IM,

-UM,

-ÜM

-im

-âm

-um

-ym

EU SOU
YOU ARE
-sihn

-suhn

-soon

-sewn

-SİN,

-SIN,

-SUN,

-SÜN

-sin

-sân

-sun

-syn

VOCÊ É
HE IS
-dihr

-duhr

-dour

-dewr

-DİR,

-DIR,

-DUR,

-DÜR

-dir

-dâr

-dur

-dyr

ELE É
WE ARE
-ihz

-uhz

-ooz

-ewz

-İZ,

-IZ,

-UZ,

-ÜZ

-iz

-âz

-uz

-yz

NÓS SOMOS
YOU ARE (PLURAL)
-sih sihz

-suh suhz

-sou sooz

-sew sewz

-SİNİZ,

-SINIZ,

-SUNUZ,

-SÜNÜZ

-siniz

-sânâz

-sunuz

-synyz

VOCÊS SÃO
THEY ARE
-lehr

-lahr

-lahr

-lehr

-LER,

-LAR,

-LER,

-LAR

-ler

-lar

-lar

-ler

ELES SÃO
VERBS IN ENGLISH
VERB IN TURKISH
PRONUNCIATION ENGLISH
FUTURE TENSE
PRONUNCIATION BRAZILIAN

PORTUGUESE

BRAZILIAN PORTUGUESE
TO BE (WITH ADJECTIVE)
ohl mahk
OLMAK
oLmák
SER (COM ADJETIVO)
I WILL BE
oh lah jaa uhm
OLACAĞIM
oladjáa am
EU SEREI
YOU WILL BE
oh lah jahk suhn
OLACAKSIN
oladjáksân
VOCÊ SERÁ
HE WILL BE
oh lah jahk
OLACAK
oladják
ELE SERÁ
WE WILL BE
oh lah jaa uhz
OLACAĞIZ
oladjaa âz
NÓS SEREMOS
YOU WILL BE (PLURAL)
oh lah jahk suh nuhz
OLACAKSINIZ
oladják sânâz
VOCÊS SERÃO
THEY WILL BE
oh lah jahk lahr
OLACAKLAR
oladják lar
ELES SERÃO
Contributors
Last Lessons
Create a new Lesson